Sports and Activities
Football
Someries football team takes to the field for the new season
Our sports leader, Mr Osborne, has arranged a large amount of team fixtures and sporting events for our children to attend during the course of the school year. The first of these, on 17 September, was the opening game of the season for our football team. The game was at home against a powerful team from Hillborough Juniors. Both teams played well, tackling strongly and creating chances. However, the game was decided by a lone own goal when the ball bounced off the shin of a Someries defender and into the net. It was a promising first performance from our team.
Here are some sports highlights from 2017-18
Sports Day
National Sports Week 25-29 June 2018
Here at Someries we think that keeping fit and healthy is really important. We have participated in National Schools Sports Week. We began the week with an assembly delivered by an ex-international basketball player, Dru Spinks. Dru is a local man who represented England on 27 occasions.
During the week, children experienced 'taster' sessions of dance, boxing and skipping with professional coaches. As well as the taster sessions and PE lessons, all children have walked or run a Someries Mile each day – the big "S-Mile". This was tough in the heat but the children were all up for the challenge. There will also be some house sport competitions.
It has been an amazing week and the children have enjoyed themselves, realised the importance of keeping fit and healthy, and experienced something new.
We are hoping that friends and family will sponsor children for the daily S-Miles that they have completed. We are hoping to use this to raise money for the children's School Council playground equipment fund. . If you would like to 'sponsor' your child in this way you can make a donation at our crowdfunding page www.justgiving.com/crowdfunding/someriesjuniorschool. Please share the link!
Sports Week -

Award Winners and Trim Trail Opening

Each teacher nominated some children from their class for the Sports Week Awards. Children earned their award for their performances or for the values that they showed in the sports activities. Their reward was to officially open our new all-weather trim trail and be the first ones to try it out. Well done award winners!
Sports Week -

Skipping

World record holder Peter Denis of Skipbeatz took each class for a session of intensive skipping. Each child developed their skills and was encouraged to keep improving their 'spm' - skips per minute.
Sports Week -

Dance

A dancer instructor from local Next Generation Youth Theatre's dance team took the children through some moves in the hall. Each group worked on a routine together. (You can find out more about NGYT Dance at their website: ngyt.co.uk/ngyt-dance-3-18/#).

We received this nice mail from Lauren, one of the NGYT instructors:

Dear Mr Osborne, Mr Hunt and all of the staff at Someries Junior School,

It was so wonderful to meet you all yesterday and all of the students who took part in the dance sessions for Sports Week.

Sophie and I thoroughly enjoyed teaching all of the year groups and I was so impressed by the talent, enthusiasm, theatricality and creativity that they all shared with us and each other. It was fantastic to see so many smiling happy faces which were so infectious, I had the best day and I hope they did too!

The students are so lucky to have such a lovely school (I know I am biased as I attended until 2001) and a head teacher and staff who are supportive of the arts and creative enrichment and give them so many opportunities.

Best wishes, Lauren
Sports Week -

Boxercise

On Tuesday, a boxer came to teach the children some moves used in the ring. He got the children warmed up and then showed them several coordinated moves. The workout was quite intense and required agility and good timing.
Sports Week -

The Big Daily S-Mile

Each day this week, our children have been completing the S-Mile. Some children run the six laps of the field whilst others chose to jog or walk the mile - a wise choice in the heat and sun! We have been impressed with the children's enthusiasm despite the hot weather
Sports Week -

Cycling Skills
Luton Borough Council's Cycle Training Team are training our Year 6 pupils. Cycling is an important life skill and the children are learning cycling control skills, and being taught about the importance of maintaining a bike. Luton Borough Council have provided the bikes for the children to use.
Sports Week -

Dru Spinks, England International

To mark the start of National Sports Week, we heard from Dru Spinks, a top flight basketball player. Dru captains his top British Basketball League team, Milton Keynes Lions, for seven years and played many times for England. He showed us clips of him scoring in the BBL Cup final and spoke to us about the skills required to do well in sport. As well as speed and good reflexes, Dru said that he needed determination, cooperation and resilience to be a top sportsperson - the same skills that the children need to show to do well in school.

Dru ran some coaching sessions for Years 5 and 4 on our playground. Years 3 and 6 will learn their basketball skills on Thursday.
Zone Sports
On 12 June 2018, a team of athletes from Someries Junior School went to take part in the Eastern Zone athletics tournament. The children enjoyed taking part at the big event at Ashcroft High School and we were pleased with the positive attitudes they displayed. We were also proud to see that about a third of the team won through to the town-wide finals.
Our 'Smooga' football arena is installed: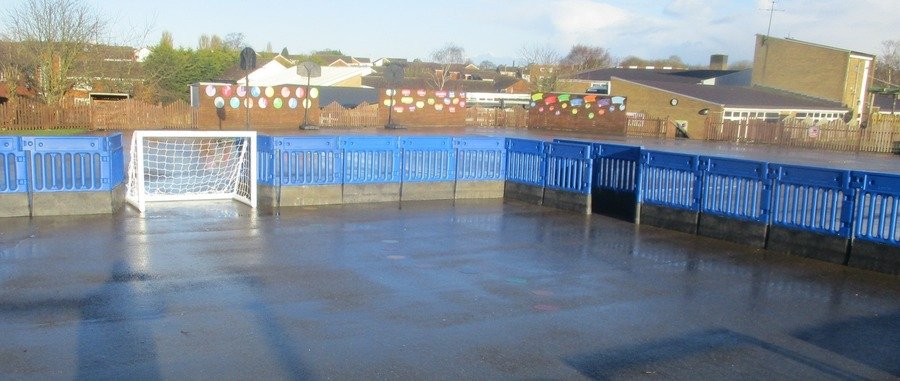 House Sports Competition
Sports Relief shootouts
Big S-mile: keeping fit, having fun and raising over £1,500!
Football at dusk in November
Tabletennis tournament November 2017
Football against Bushmead October 2017