Recent Events
Here are some images from this year's events...
(You can also see events in our Sports, Fundraising and Year 3, 4, 5 or 6 pages)
RE week
Our new RE curriculum asks pupils to find answers to questions. For Year 3 the question was, "Why do Christians call the day that Jesus died Good Friday?" They explored the Easter story and turned their thoughts into artwork.
To help Year 4 children exploring the idea of Worship. They received a visit from Jo White from Stopsley Baptist Church who explained the importance of worship for Christians.
House Forum – Working together
On February 8 we held our first "House forum". This is an event where children work with children from the same house and phase. (For example, all the upper phase Jupiter children were together). The focus of these events is collaboration - working together to produce something. The theme for this first house forum was "Life on Planet…"
Pupils worked in groups to come up with their own planet from an alternative solar system. They decided what the planet was like physically and described its atmostphere, climate and inhabitahts. Each group presented their ideas to the rest of the class. The pupils enjoyed the activity and the teachers commented on how well children worked together with pupils from other classes and year groups.
Some of these planets – with names such as Napoleoum, Planet X, Kanda Land, Zygarde, Jeptune and the Aqua Planet – are on display in the library.
Meeting our local police
The children enjoyed a surprise visit from two local police constables on Tuesday 13th November. Mr Finch, our family worker, arranged for PC Andy and PC Saqib to visit the school where they enjoyed having lunch with some of the children and then joined in the games on the playground.
Christmas Dinner and Jumper Day
Wednesday 13 December was our Christmas dinner day and we combined it with Save the Children's 'Christmas Jumper Day'. Mrs Secker and her catering team did us proud as they produced a wonderful Christmas feast for the children and staff. There were crackers and drinks on the tables for all the children, both school dinners and packed lunch and Mr Finch's Christmas music helped with the festive atmosphere. Everyone seemed to have a great time!
A trip to see a local panto
We were delighted once again to be invited to see a performance of Ashcroft High School's pantomime "Jack and the Bean Tin Thing". Our Year 5 and Year 6 children walked the short distance to Ashcroft and enjoyed filling the seats in the wonderful theatre there. The show was performed by Year 7 to Year 9 students and lots of fun – we enjoyed shouting, cheering and booing along with the cast! It was great to see some ex-Someries children playing music as we entered and performing in the pantomime – including playing the lead role of Jack himself!
November Values Role Models
Well done to our pupils who have been embracing our Values and been nominated and selected to be Values Role Models. Pupils who have been awarded a certificate and badge in our special Values assembly are:
Aspiration+ Kindness - Jaydon W (5Perseus)
Aspiration - George F (4Aquila)
Cooperation + Respect - Caydon (6Pegasus)
Respect - Nadine (6Pegasus), Emma O (3Lyra)
Cooperation + Kindness - Danny (5Hercules)
Responsibility - Corey N (6Andromeda)
Tolerance - Olivia E (3Lyra), Joe J (4Orion)
Kindness - Christiana O (6Pegasus)
Cooperation - Radia M (3Lyra)
Year 5 Dragon's Den Maths Game Challenge
Mr Hunt worked with the children of Year 5 on a special challenge during one October afternoon. In their houses, they were given the assignment of creating a maths game for younger children. The task was as much to test how well they applied our values as much as their maths.
Working in a group of six to eight on a task can be quite daunting and some might be tempted to sit out and let others do the work. So it was great to see the aspiration that all children showed by wanting to be involved and to make their group's ideas work. The children also demonstrated cooperation and kindness by working together and allowing each child to take part. They learned to tolerate different ideas and approaches.
After the short period of time that children were given to design and make their game, they then presented it to the rest of the year, in Dragon's Den style. Mr Hunt was very impressed with the children's teamwork and finished products and houses were awarded points on how well they displayed our values: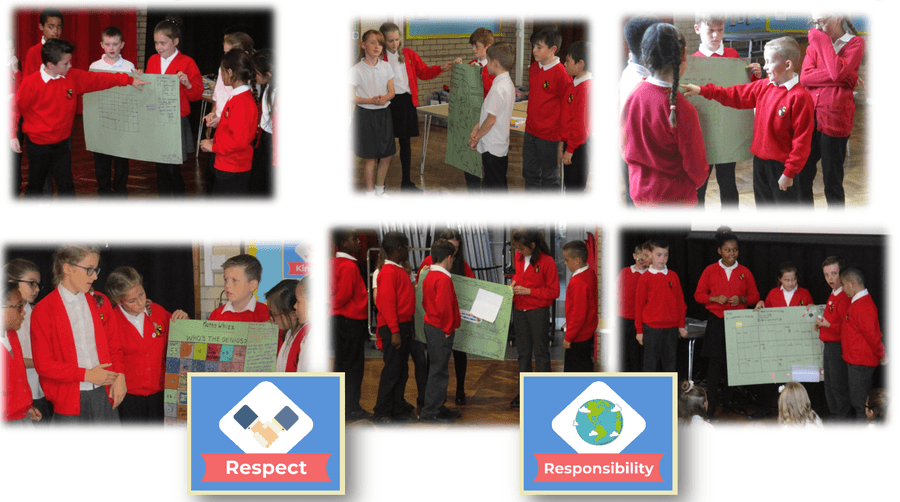 Police Safety Talk
On the final day of last half team, some of our children listened to advice from Sally from our local community police team. Sally explained the role of the police and explained to children what they can do in certain dangerous situations and how to get help. We hope that our children do not end up in such situations but, if they do, it is good for them to be prepared.
Harvest Festival
On 3rd October, we held our annual Harvest Festival assembly and the children bought in food gifts to be distributed to families in need of help. Jo White, the children's worker from Stopsley Baptist came to speak at our assembly. She taught us that harvest is a good time to be thankful for what he have and that, out of thankfulness, we want to share with others. Jo told us a story from the Bible about Elijah and how he received food in amazing ways. Oliver and Amany acted out the story as Elijah and the poor widow.
We also heard poems from Years 3 and 4, including a rap which was accompanied by George's impressive beatbox! The Year 3 children showed us some of their art work based on the theme of harvest.
The Someries Juniors children brought in enough food to fill four large tables and these gifts were collected by a local food bank to help Luton families in need. Many thanks to all the families that contributed to this!
October Values Role Models
Well done to our values award winners. These children have been nominated by members of staff for living our values.
Values Role Models for Octber are:
Week 1: Harrison B, Casey R, Emily L, Aoife A, Francesca H
Week 2: Paris G, Lucy Q, Mathieu D, Zuzanna S, Abdulrahim F
Week 3: Madison R, Elsa B, Ollie G, Max N
Our First Values Role Models
In our values assemblies in September, we announced our first Values Role Models.
Members of staff who see a child demonstrating our values particularly well, fill out a nomination form. Each week Mr Hunt chooses a small number of these children and awards the status of Values Role Model. Winners of this accolade receive a certificate and a badge to wear in school.
Values Role Models for September are:
Week 1: Kyle C, Neve G, Matthew W, Callum S, Sulaiman A
Week 2: Nicholas M, Danielle B, Jayden-James B, Zaiyannah P, Bethanie S-G
Week 3: Kianna B, Fernando R, Millie L, Luke A, Nehal A, Carly H
Week 4: Samuel C, Marwa B, Lexxie B, Ruby M, Tyler C
New Houses
As the children returned to school at the start of the term, they were allocated to one of our new houses. School council suggested new themes for our houses. Children then voted and chose a planets theme. Now, to match our stars theme for class names, we have new houses named after four planets of our solar system. Children have already begun collecting the new blue house point tokens and adding them to their house's tube in the new house point collector.
Here are some events from last year
Skipbeatz - reading reward
Our next set of Accelerated Reader award winners celebrated their achievement with a VIP lunch in the library with world skipping record holder Pete Denis of Skipbeatz.
Singing Spectacular
On Friday 22 June , our choir took part in the annual Luton schools celebration of singing - the Summer Singing Spectacular. Our child joined with 250 children from other Luton school choirs to perform to a packed house at Stopsley Baptist Church, Luton's largest auditorium. Our choir was at front and centre and joined in with great enthusiasm as they sang a range of songs and medleys from disco numbers that their parents might know to an awesome rendition "How Far I'll Go" from Moana. We were very proud of our singers!
Anti-radicalisation Workshop for Years 5 & 6
One of the Year 6 pupils has written a recount of this event:
On Wednesday 20th June, a man called Thomas – who worked with Just Enough UK - came into Year 6 and taught us about radicalisation and terrorism.
After he introduced himself, we were shown a PowerPoint about the aforesaid radicalisation and what it meant (it meant "the act of turning someone into a terrorist.") Soon after, Thomas told us that we were now in the times of cavemen; he sorted our tables into 3 tribes Ug, Mug and Grug (I was in Grug.) He told us that there was banana tree that grew 5 bananas each day; we had to separate them into equal parts so we did. After that, the tribe leaders sat down and he told us to go after the bananas (almost everyone jumped out of their seats and were trying to get to the board.) He stopped us and told us that he thought we had a plan and that we had sorted out a system (we clearly hadn't). He then went on to explain about this activity.
The next activity was about Guy Fawkes and how Robert Catesby had used radicalisation to convince Guy Fawkes and other Catholics to join his plot. Thomas was Robert Catesby and he convinced other people in my class (who were acting as Catholics) to join his plan by using bribery. When they had finished doing the acting, we finished the lesson; Thomas gave us each a slip to fill out things like what we thought of the lesson and what we learnt. Before he left, everyone was given a certificate and we wrote an acronym for VOICE on it and a sticker that had a hotline to report things to the police.
In conclusion, I really enjoyed this lesson and I thought it was quite interesting.
What the children said they learned:
It is better to use your voice than violence as you can get remembered in a good way
If we work together we can make the world a better place
People aren't born as terrorists, they are turned into them.
How terrorism really works, why people do it and how they hijack religions
If you see or get a weird message from someone you don't know, tell a trusted adult
People tried to make this world a land full of depression but if you take a step back you'll realise there are good things in this world too
The internet is a window to the world
Other feedback from pupils:
We should accept people with different qualities
I am very grateful that Thomas came in today to teach and help us to understand the world in a more positive perspective
Violence doesn't work, voice does
You don't need to be influenced by bad people
Be kind to everyone even if they are different
The workshop was very entertaining and fun also all the children seemed to enjoy it
The workshop was amazing
The presenter taught us a lot of cool things
Feedback from our visiting speaker:
It was a pleasure to visit and work in your school. We are absolutely delighted by the messages your wonderful pupils have come out of our workshops with and would be so happy to work with your children again in the future!
Five Guys - reading reward trip
On 19 June, fifteen children, accompanied by Mr Finch and Mr Hunt, headed to the Five Guys burger restaurant in the town centre. These children had met their Easter term reading targets in our Accelerated Reader programme and this was their reward. Emma, the manager, welcomed us and led a programme of activities which included learning about Five Guys and their approach to making high-quality burgers, a cheese stacking competition and dressing our own burgers.
Kristija from 4 Orion gave her recollections of the visit:
As I walked to school, I just kept thing about the trip to Five Guys. I got to school and at about 9:05 we got onto the coach.
Me, Mr Finch, Mr Hunt and the other children walked across town square to Five Guys. We were greeted by Emma who gave us Five Guys tee-shirts and baseball caps to wear. After that, Emma told us some facts about five guys and about 4th July…… Five Guys Olympics!
We watched a video about the Olympics and then we were put into 3 groups for a cheese stacking competition. You basically had to stack slices of cheese in a star shape and wrap it in foil. Paris' (Year 3) team won!
After that we got our buns and put dressings, salad and bacon in them. Soon after, we put our meat in and, when they had been cooked, started to eat the burgers we had made. We also got chips.
After we had all finished, we got certificates, sweets and vouchers for a free meal. We took a photo with Emma and the other staff members, said goodbye and headed back to school.
Growth Mindset
At Someries Junior School, we know children with a Growth Mindset will have a positive attitude towards their learning, they will view mistakes as learning opportunities and become resilient life-long learners.
The children enthusiastically participated in a Growth Mindset competition, where they had to portray (through a poem or poster) what Growth Mindset means to them. Entries were to a high standard, a huge thank you and well done to all those that entered.
Here are the winning entries:
Blue Cross Tabletop Sale
Easter Booster School - maths and reading activities
Science Week - Bridge Building
Science Week - Mad Science
Work Book Day 2018
Young Voices concert at the O2 Arena
Visit from ex-pupil Carlon - no matter what happens...
Christmas Dinner
British Values - Democracy
Beauty & the Beast panto