Recent Events
Here are some images from this year's events.
There are also events in our Sports, Fundraising and Year 3, 4, 5 or 6 pages
Celebration Assembly
Even though we cannot be together, each Friday we will celebrate the achievements of our pupils. The children have created some wonderful work at home and this gives us a chance to celebrate it.
Friday 22 May - end of half term
This week's Celebration Assembly has the house point totals for this half term and for the year so far - as well as lots and lots of great work . You can see highlights below or the full assembly online here: assembly link 22 May
Friday 15 May
As well as wonderful work submitted by pupils in their Google Classrooms, we saw some fun family VE Day celebrations. You can see highlights below or the full assembly online here: assembly link 15 May
Thursday 7 May
With great work and wellbeing activities from pupils. You can see highlights below or the full assembly online here: assembly link 7 May
Friday 1 May
Includes great work from pupils and the latest house points.
You can see highlights below or the full assembly online here: assembly link 1 May
Science Week 2020 - March 9th to 13th
Monday - Mad Science Assembly
This morning's assembly was taken by Mad Scientist Radioactive Roxanne. She showed us how fireworks get their different colours from earth metals with examples that sparkled red, orange, gold, green and blue. She showed us how paper can burn in a flash if it is coated with the right chemical and as a finale, she reacted aluminium with sodium hydroxide to create hydrogen that she burned with a loud 'Pop!' over a candle.
You can see details of other Science Week events on the Year 3, Year 4 and Year 5 pages. (Year 6 had their Bridges workshop earlier in the year)
World Book Day 2020 - March 5th
World Book Day assembly
It was great to see the children in wonderful costumes for a wide variety of book characters. In the special assembly Miss Cresswell and Miss Xygaki read excerpts from their favourite Roald Dahl books, Fantastic Mr Fox and The BFG. A team of Year 6 children then beat the teacher team in a game of Book Taboo.
We had a number of children who dressed as Roald Dahl characters which fits in well with the activities they will do later: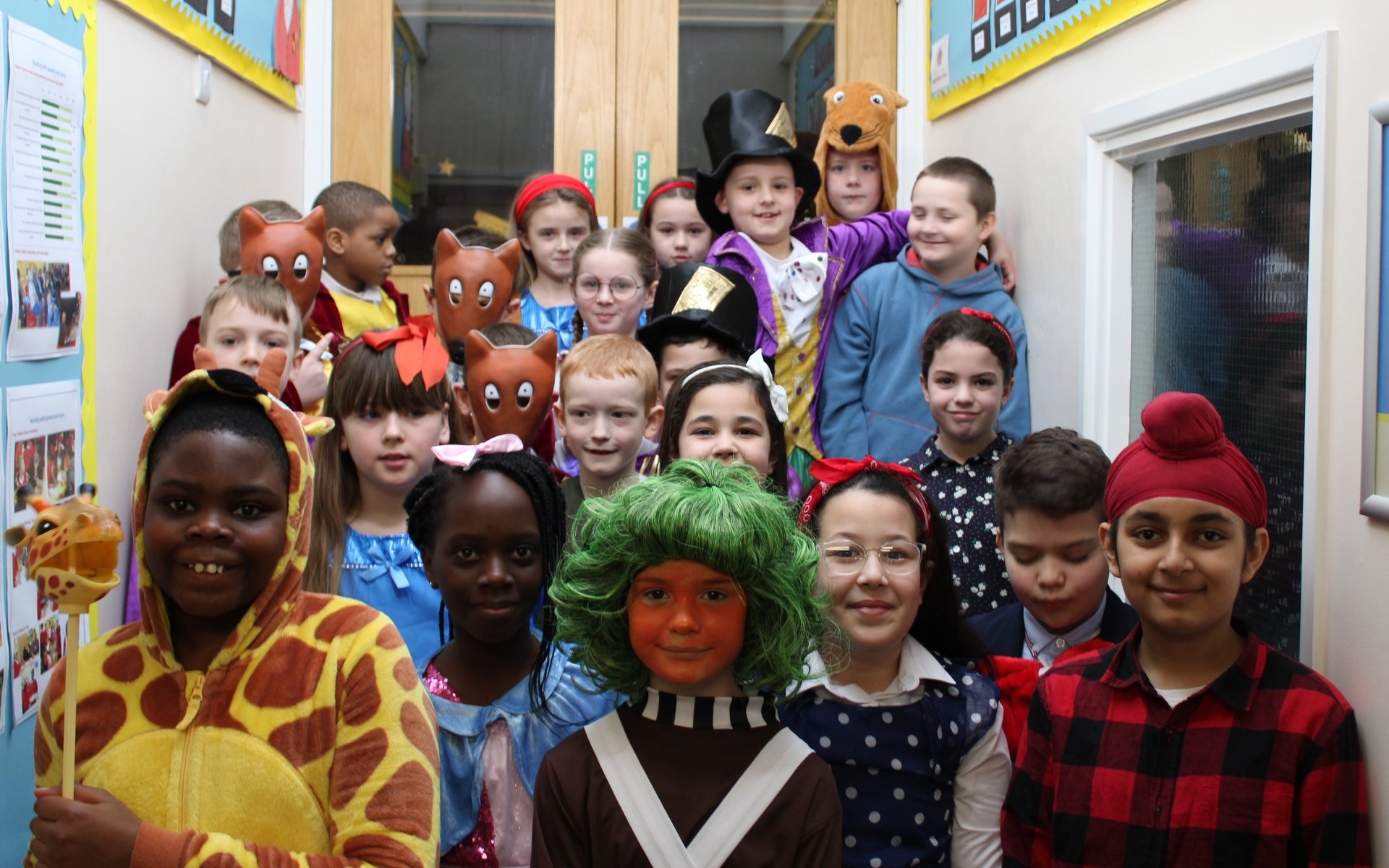 Willy Wonka's Chocolate Factory
A team of staff worked hard to transform our plain school hall into an amazing Roald Dahl reading experience. The hall was decorated as Willy Wonka's Chocolate Factory and a Roald Dahl Reading Corner was created where each class had a turn listening to their teacher read. (There was lots of hand sanitiser in use around the sweet factory!)
'Open the book' assembly
A volunteer team from St Francis visited in our first assembly in March to deliver our first Open the Book assembly. In these assemblies, the team act out a Bible story and ask the children to think about what this teaches us. Today they acted out the story of 'The Man with Money' (the parable of the talents) and encouraged the children to thinking about using their own talents and abilities to do good - which ties in with our pupils' aspiration to be the 'Best Versions' of themselves. Our thanks go to the team of visitors from St Francis.
New playground exercise equipment
Over the February half term we had new equipment installed on the playground to give the children more opportunity for active exercise during morning break and lunch times. A number of children had requested more equipment to use during the months when the field is too wet to use. So, funded by a £4,200 contribution from Co-op as one of their community partners and special sports grant funding, we have installed a play frame with 17 different active stations and an all-weather floor. This equipment is to help ensure the engagement of all pupils in regular physical activity (the Chief Medical Officer guidelines recommend that children engage in at least 60 minutes of physical activity a day, of which 30 mins should be in school).
The school council have also used £4,000 saved from their own fundraising events over the last two years to pay for an 8-station outdoor gym.
The new equipment was opened by the school councillors on a rather grey February morning but they were delighted by the new equipment!
Play Frame 7
Our new exercise play frame provides many different ways for pupils to develop their strength and agility and will allow many children to go on it at the same time.
Outdoor Gym
School council paid for this outdoor exercise equipment which provides ways to develop different muscles in the body.
Snowy Someries!
Today we arrived at school in the first snowfall of the year and our fields were blanketed in white. The snow soon turned into deep slush on the playground but children who had brought waterproof boots were able to go out and enjoy the remaining snow.
(If you would like your child to be able to enjoy the snow outside on future snow days then please send them into school in boots with their shoes (or trainers for PE) in a bag.)
New caterers for Someries Juniors
On February 24, our new caterers, Caterlink, began serving meals in our dining hall for the first time. In morning assembly, guest chef Adam introduced Caterlink's healthy eating philosophy and got the children thinking about the importance of fruit and vegetables in their diet. At lunchtime, the dining hall looked different with the addition of a new salad bar, a fresh yoghurt option and a hydration station. The children's feedback on the new food was very positive and we noticed a lot more clean plates! They were also excited to see an appearance from Joe-Joe Crow, Caterlink's own scarecrow mascot. Caterlink were keen to hear what children thought about the new menu and new layout and have already made some adjustments to make service faster and to improve the dining experience.
Tree planting on our school site
The children have been improving our outdoor environment. We are blessed with great fields for playing on and for sport but the fields and grass banks around school are a little bare. Last year, children and parents planted trees around the border of our field. Last term, children from Gardening Club and School Council worked together to plant crocus and daffodil bulbs around the site.
This term Mr Robinson and Mr Finch led a team of parent and carer helpers to plant a new set of small tree saplings that were donated to the school by Carbon Footprint Ltd. We look forward to seeing these trees grow and provide shade for children and a shelter for wildlife in the years to come.
Young Voices 2020 at Resorts World, Birmingham
On 21 January, twenty Someries singers journeyed to Birmingham to take part the amazing Young Voices event. They left school mid-morning to arrive in time to get into position at Resorts World - a venue that has seen the likes of Adele, Beyoncé and Lady Gaga performing. They completed a three hour rehearsal with the Young Voices musicians and the other members of the 6,000 (!) strong choir.
In the evening they performed to a packed house of thousands and enjoyed the great moves of the Urban Strides dances. In between their own songs, the choir got to sing choruses for The Shires, Tony Hadley and The Voice 2018 winner, Ruti. The show was spectacular and the children thoroughly enjoyed being part of such a great event.
One singer, Olivia, wrote this note in her journal on the way home: "We have just been to Young Voices in Birmingham 2020. It was a really fun day. It was really busy and they kept us really entertained. I would definitely go again. They were kind and helpful."
Video snippets
Disney's On My Way (from Brother Bear)
Friends of Someries Junior School Raffle
The Friends of Someries Junior School is the newly-formed association for parents and carers of children at the school. In December, they held their first fundraising event - a raffle with super prizes from local businesses. There was also a raffle for a pair of Luton Town home tickets. The raffle draw and auction took place outside school on 17 December and raised £277 for the Friends. We are grateful to the hardworking volunteers who ran the event and to parents and carers for taking part in the raffle.
Christmas Dinner and Save the Children Christmas Jumper Day
December 11th was our Christmas Dinner day and we combined this with an option to join in with Save the Children's Christmas Jumper Day to help raise money while enjoying some festive fun. The children donated at total of £185 for the charity.
Meeting our new PCSOs
Two Police Community Support Officers for Stopsley and Wigmore, Charlotte and Darby, visited us today. Mr Finch gave them a tour of the school and introduced them to the children. Charlotte and Darby answered questions from children and joined in some lessons. We are looking forward to seeing them in school at future events.
Planting for the Spring! - Gardening Club
We are fortunate to have such large playing fields for use in dry weather. However, after the autumn leaves have fallen, the grounds can seem quite bare in the winter. Gardening Club members, along with the school council, hope that, thanks to their efforts, the grounds will look brighter next spring. Led by Mrs Whiting, they planted over a hundred daffodil bulbs at the edges of the playground in October, and we hope to see the bright yellow flowers appear next term.
October House Forum - House Jigsaw Displays
For our first house forum of this year, children worked with others in their house to produce a jigsaw for their house wall display. Each child – and adult - illustrated their own piece of the jigsaw, drawing things that represented their character, hobbies and interests. Years 3 and 6 worked together in their houses, as did Years 4 and 5, so some children experienced being in a class with their brother or sister.
Harvest Kindness
At Harvest Time we celebrate the good things that we have and share our resources with those that do not have so much. At the end of September, children brought in food items to be distributed to families in need by the local food bank run by Stopsley Baptist Church. For our Harvest Assembly, the families' and children's worker from Stopsley Baptist, Jo White, came to explain a little about where our food comes from and how it grows. (You can see more pictures of all the food that was brought in on our Fundraising page)
In the assembly, we also heard Year 3 children reading their poems about vegetables and Year 4 children explaining about harvest celebrations in different parts of the world.
RE week
Our new RE curriculum asks pupils to find answers to questions. For Year 3 the question was, "Why do Christians call the day that Jesus died Good Friday?" They explored the Easter story and turned their thoughts into artwork.
To help Year 4 children exploring the idea of Worship. They received a visit from Jo White from Stopsley Baptist Church who explained the importance of worship for Christians.
House Forum – Working together
On February 8 we held our first "House forum". This is an event where children work with children from the same house and phase. (For example, all the upper phase Jupiter children were together). The focus of these events is collaboration - working together to produce something. The theme for this first house forum was "Life on Planet…"
Pupils worked in groups to come up with their own planet from an alternative solar system. They decided what the planet was like physically and described its atmostphere, climate and inhabitahts. Each group presented their ideas to the rest of the class. The pupils enjoyed the activity and the teachers commented on how well children worked together with pupils from other classes and year groups.
Some of these planets – with names such as Napoleoum, Planet X, Kanda Land, Zygarde, Jeptune and the Aqua Planet – are on display in the library.
Meeting our local police
The children enjoyed a surprise visit from two local police constables on Tuesday 13th November. Mr Finch, our family worker, arranged for PC Andy and PC Saqib to visit the school where they enjoyed having lunch with some of the children and then joined in the games on the playground.
Christmas Dinner and Jumper Day
Wednesday 13 December was our Christmas dinner day and we combined it with Save the Children's 'Christmas Jumper Day'. Mrs Secker and her catering team did us proud as they produced a wonderful Christmas feast for the children and staff. There were crackers and drinks on the tables for all the children, both school dinners and packed lunch and Mr Finch's Christmas music helped with the festive atmosphere. Everyone seemed to have a great time!
A trip to see a local panto
We were delighted once again to be invited to see a performance of Ashcroft High School's pantomime "Jack and the Bean Tin Thing". Our Year 5 and Year 6 children walked the short distance to Ashcroft and enjoyed filling the seats in the wonderful theatre there. The show was performed by Year 7 to Year 9 students and lots of fun – we enjoyed shouting, cheering and booing along with the cast! It was great to see some ex-Someries children playing music as we entered and performing in the pantomime – including playing the lead role of Jack himself!
Year 5 Dragon's Den Maths Game Challenge
Mr Hunt worked with the children of Year 5 on a special challenge during one October afternoon. In their houses, they were given the assignment of creating a maths game for younger children. The task was as much to test how well they applied our values as much as their maths.
Working in a group of six to eight on a task can be quite daunting and some might be tempted to sit out and let others do the work. So it was great to see the aspiration that all children showed by wanting to be involved and to make their group's ideas work. The children also demonstrated cooperation and kindness by working together and allowing each child to take part. They learned to tolerate different ideas and approaches.
After the short period of time that children were given to design and make their game, they then presented it to the rest of the year, in Dragon's Den style. Mr Hunt was very impressed with the children's teamwork and finished products and houses were awarded points on how well they displayed our values: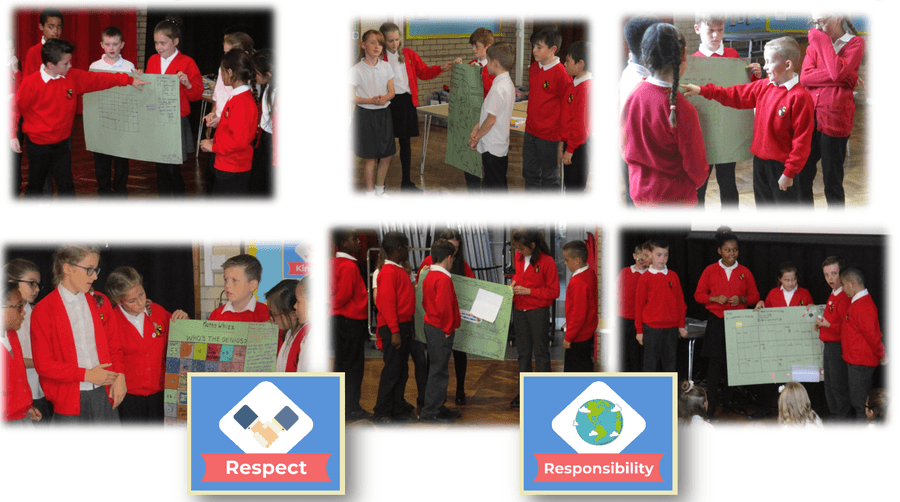 Police Safety Talk
On the final day of last half team, some of our children listened to advice from Sally from our local community police team. Sally explained the role of the police and explained to children what they can do in certain dangerous situations and how to get help. We hope that our children do not end up in such situations but, if they do, it is good for them to be prepared.
New Houses
As the children returned to school at the start of the term, they were allocated to one of our new houses. School council suggested new themes for our houses. Children then voted and chose a planets theme. Now, to match our stars theme for class names, we have new houses named after four planets of our solar system. Children have already begun collecting the new blue house point tokens and adding them to their house's tube in the new house point collector.
Here are some events from 2017-18
Skipbeatz - reading reward
Our next set of Accelerated Reader award winners celebrated their achievement with a VIP lunch in the library with world skipping record holder Pete Denis of Skipbeatz.
Singing Spectacular
On Friday 22 June , our choir took part in the annual Luton schools celebration of singing - the Summer Singing Spectacular. Our child joined with 250 children from other Luton school choirs to perform to a packed house at Stopsley Baptist Church, Luton's largest auditorium. Our choir was at front and centre and joined in with great enthusiasm as they sang a range of songs and medleys from disco numbers that their parents might know to an awesome rendition "How Far I'll Go" from Moana. We were very proud of our singers!
Anti-radicalisation Workshop for Years 5 & 6
One of the Year 6 pupils has written a recount of this event:
On Wednesday 20th June, a man called Thomas – who worked with Just Enough UK - came into Year 6 and taught us about radicalisation and terrorism.
After he introduced himself, we were shown a PowerPoint about the aforesaid radicalisation and what it meant (it meant "the act of turning someone into a terrorist.") Soon after, Thomas told us that we were now in the times of cavemen; he sorted our tables into 3 tribes Ug, Mug and Grug (I was in Grug.) He told us that there was banana tree that grew 5 bananas each day; we had to separate them into equal parts so we did. After that, the tribe leaders sat down and he told us to go after the bananas (almost everyone jumped out of their seats and were trying to get to the board.) He stopped us and told us that he thought we had a plan and that we had sorted out a system (we clearly hadn't). He then went on to explain about this activity.
The next activity was about Guy Fawkes and how Robert Catesby had used radicalisation to convince Guy Fawkes and other Catholics to join his plot. Thomas was Robert Catesby and he convinced other people in my class (who were acting as Catholics) to join his plan by using bribery. When they had finished doing the acting, we finished the lesson; Thomas gave us each a slip to fill out things like what we thought of the lesson and what we learnt. Before he left, everyone was given a certificate and we wrote an acronym for VOICE on it and a sticker that had a hotline to report things to the police.
In conclusion, I really enjoyed this lesson and I thought it was quite interesting.
What the children said they learned:
It is better to use your voice than violence as you can get remembered in a good way
If we work together we can make the world a better place
People aren't born as terrorists, they are turned into them.
How terrorism really works, why people do it and how they hijack religions
If you see or get a weird message from someone you don't know, tell a trusted adult
People tried to make this world a land full of depression but if you take a step back you'll realise there are good things in this world too
The internet is a window to the world
Other feedback from pupils:
We should accept people with different qualities
I am very grateful that Thomas came in today to teach and help us to understand the world in a more positive perspective
Violence doesn't work, voice does
You don't need to be influenced by bad people
Be kind to everyone even if they are different
The workshop was very entertaining and fun also all the children seemed to enjoy it
The workshop was amazing
The presenter taught us a lot of cool things
Feedback from our visiting speaker:
It was a pleasure to visit and work in your school. We are absolutely delighted by the messages your wonderful pupils have come out of our workshops with and would be so happy to work with your children again in the future!
Five Guys - reading reward trip
On 19 June, fifteen children, accompanied by Mr Finch and Mr Hunt, headed to the Five Guys burger restaurant in the town centre. These children had met their Easter term reading targets in our Accelerated Reader programme and this was their reward. Emma, the manager, welcomed us and led a programme of activities which included learning about Five Guys and their approach to making high-quality burgers, a cheese stacking competition and dressing our own burgers.
Kristija from 4 Orion gave her recollections of the visit:
As I walked to school, I just kept thing about the trip to Five Guys. I got to school and at about 9:05 we got onto the coach.
Me, Mr Finch, Mr Hunt and the other children walked across town square to Five Guys. We were greeted by Emma who gave us Five Guys tee-shirts and baseball caps to wear. After that, Emma told us some facts about five guys and about 4th July…… Five Guys Olympics!
We watched a video about the Olympics and then we were put into 3 groups for a cheese stacking competition. You basically had to stack slices of cheese in a star shape and wrap it in foil. Paris' (Year 3) team won!
After that we got our buns and put dressings, salad and bacon in them. Soon after, we put our meat in and, when they had been cooked, started to eat the burgers we had made. We also got chips.
After we had all finished, we got certificates, sweets and vouchers for a free meal. We took a photo with Emma and the other staff members, said goodbye and headed back to school.
Growth Mindset
At Someries Junior School, we know children with a Growth Mindset will have a positive attitude towards their learning, they will view mistakes as learning opportunities and become resilient life-long learners.
The children enthusiastically participated in a Growth Mindset competition, where they had to portray (through a poem or poster) what Growth Mindset means to them. Entries were to a high standard, a huge thank you and well done to all those that entered.
Here are the winning entries:
Blue Cross Tabletop Sale
Easter Booster School - maths and reading activities
Science Week - Bridge Building
Science Week - Mad Science
Work Book Day 2018
Young Voices concert at the O2 Arena
Visit from ex-pupil Carlon - no matter what happens...
British Values - Democracy
Beauty & the Beast panto