Class Teachers:
Mr C Robinson (4 Orion) and Miss N Sadaq/Miss V Perini (4 Aquila)
Assistant Head [Lower Phase] - Miss N Sadaq
Information about what the children will be learning - please click on link below:
- Year 4 Curriculum Plan 2021/22
- Timetables 2021/22: 4 Orion 4 Aquila
- Year 4 Curriculum Newsletter - Spring 2022
Homework:
Reading books will be sent home daily. Once your child has read their book please sign the reading record and remind your child to take the relevant quiz on Accelerated Reader.

Spellings will be sent home (Mondays) to be learnt ready for the spelling test on the following Monday. Click on this link for spellings during the period Spellings Jan-Feb 2022
Click on this link to view:

Spelling Shed League Table

Homework will be sent home (Wednesdays) and will be due for completed return by the following Monday.
Please encourage your child to try Times Tables Rock Star and Spelling City at home weekly.
PE: - Year 4 lessons are Tuesday and Thursdays [children wear their PE kit all day]
Back at school after lockdown - March 8
There were lots of smiles as Year 4 caught up with their friends - and got down to learning.
Macmillan Cancer Support Non-Uniform Day, September 2020
Year 4 children enjoyed helping to raise £265 Macmillan Cancer Support by supporting our non-uniform day.
We're back!
Year 4 children returned to school on September 3 after the long COVID lockdown - but they got down to work so quickly it was as if they had never been away! Mr Robinson and Miss Sadaq were pleased to see their positive start and the children said that it was good to see their friends again.
Highlights from Year 4 in 2019-20
Year 4 tadpoles are now blogging!
The 4 Orion tadpoles have relocated and they will keep you updated on their development at their own blog page:
https://mrrobinson4o.edublogs.org/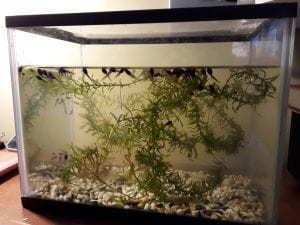 Year 4 Aeroplane making with parents
On the Thursday of Science Week a large number of family members joined the Year 4 children for a morning of aeroplane making. Adults and children combined in teams to plan and make an aeroplane. The challenge was to design and create the plane that would fly the furthest - and look great too! We were very pleased to see so many family members turn up to help the children. The children - and parents - were very proud of their work!
Creating the aeroplanes
First the teams had to plan their designs on paper to help them think through their ideas. Then they used the materials available to create their designs.
Testing the aeroplanes
Later the Year 4 children took their aeroplanes up to the playground to see how well they flew!
Year 4 and the Mad Scientist
At the beginning of Science Week, each class was visited by a Mad Scientist. Here you can see them watching a chemical reaction.
Our poems
Last term, pupils wrote poetry in RE and English lessons.
Lilly's, 'Fresh Start' poem:
If I can begin again
I shall look after my belongings and surroundings
I wish to stand up to my friends and sisters
Look after and pay more attention to my pets
I hope I can be kinder and have a positive mind
I'll be more brave and try new things I haven't done before
I would tidy my room when it's messy even if my sister makes the mess
I will help mum when my dad's at work
My Monster by Ollie:
My monster's eyes are as red as volcanic magma
His eyes are burning fire, they're full of anger
My monster has blood dripping from his gruesome and disgusting teeth
His teeth are as sharp as new shiny razors
My monster's body odour is horrendous and horrific
He smells like out of date goat's milk
He smells like garbage 200 years old
My monster is 6000 pounds worth of rotten egg
My monster is 100000 glasses shattering to pieces
His roar makes your bones shatter
His voice booms like a heard of angry elephants
My monster's voice sounds like a blender that has gone wrong
My monster is blood-thirsty and poisonous
He takes bodies and sacrifices them to his lord
He is hair-raising and horrible like a skeleton
He is your worst nightmare.
Year 4 Shabbat meal
For the January RE week, Year 4 received a special visitor. To help them learn about Judaism and what is important to Jewish people, Mrs Schwei came to explain Jewish beliefs and customs. One of the customs that she taught about was the weekly Shabbat meal. The children then brought in food to create their own Shabbat meal.
Mrs Schwei's visit by Tara-Lilly, Thisuli, Oliver, Olivia and Mia, 4O
When Mrs Schwei came, we learned that Jewish people say that there is one God and God is invisible, referred to as monotheism. She told us that for Shabbat they clean and tidy the place, they wear their best clothes and they have to cook, to welcome the queen of Shabbat. Jewish people clean the house for Passover. There is no leaven bread allowed in Passover. She explained that in the Jewish alphabet there are 22 letters and a is called aliph, b is bes, g is giso and d is dalid. The Torah is on a scroll 60 metres long. Whoever saw the Torah drop would have to fast.
Enjoying our Shabbat meal
Year 4 Shabbat meal by Ollie 4A
On Friday 10th January, we had a lovely Shabbat meal in class. Jewish people have a Shabbat meal every Friday evening. Before they have their Shabbat meal Jewish people clean the house, put on their best clothes and make lots of food.
Our entire class made their own food at home and brought it to school. I made baklava. We said a prayer and I thanked God for our school and our food. We sat down with our friends and talked about our week and what we hoped for the future. It was a lot of fun and the variety of food was delicious.
Ukulele Christmas Concert
A huge number of parents, carers and family members turned up to support Year 4's Christmas musical performance. Led by their music teacher, Mrs Wingate, they recited a number of Christmas tunes on their ukuleles and sang some rousing Christmas tunes - complete with energetic actions!
There were also solo performances on keyboard, piano and baritone horn and a violin quartet. If you would like your child to learn an instrument, please contact the school office. If you would like to join one of the local Luton Music Mix groups, such as the ukulele group, you can find out more information here. Costs are very reasonable and there are significant reductions if your child is in receipt of free school meals.
Year 4 Hat Making
For Design and Technology, Year 4 children each designed and planned a hat. They considered different styles, shapes and materials and made a number of sketches before choosing a final design. They collected the materials that they would need and they were joined on a special hat making morning by nearly forty parents and carers who helped them turn their design into reality.
Here are some comments from parents:
"Had a fantastic time hat making thank you!! J" "It's a really good activity for parents and kids."
"It was great to try something new for me. I could see how much my son enjoyed having my company in school time."
"It was great to make a hat with my daughter. Had a fantastic time."
"Had a great time, defo felt the pressure LOL J" "Had a good time making hats today - wasn't as easy as it looked!"
"Over 100 Years ago children of this age would have been plaiting straw for the hat industry in Luton."
"Fantastic activity and great to spend time with the children during school time. Messy fun! J"
"Was a pleasure working with the children. Great activity."
"Had a great time with my son making hats. Brilliant chance to have fun."
"Fantastic time hat making, loved spending time with my son! Thank you!"
"Had a lovely fun stressful time with my daughter! Learnt new skills with the glue gun!"
And to celebrate their achievements, the Year 4 classes each enjoyed a 'Mad Hatter's Party' - here are Aquila enjoying their party
Year 4 – Living Things
Children in 4 Orion hunted through the wildlife area at the edge of our playing field to find out about the creatures that lived there. In the long grasses around our new trees, they found a number of different types of mini-beasts and inspected these in their clear colleting tubs before releasing them back into the wild.
Working in class
Highlights from Year 4 in 2018-19
Sports Week:

Climbing Wall

During sports week Year 4 children all tried the climbing wall to see how high they could get. Some made it to the top!

You can see more sports week photos on our sports page.
Sports Week:

Dance
Here are some photos or our dance workout with Lauren from Next Generation Youth Theatre :
Learning – Baking, Business and Brazil
Linking to their Brazil theme and as part of their DT project, Year 4 designed and made some delicious cakes that they sold to children and parents.
In the morning, they held a coffee morning for parents and later, they sold cakes at break time and after school – with some help from Mr Finch! Through these events, the Year 4 children made a profit of £223.22. All profits will go to sponsor a Brazilian child.
Year 4 Hat Parade
In lessons, Year 4 children have been completing a hats project. This project has involved local history, art, design and technology. They have studied hat making in Luton and then applied the design process to developing their own hat. They drew plans for a number of styles before choosing the one that they liked the best. Once they had chosen the design, they researched different materials that they might use for their hat.
On Tuesday 20 November, the children enjoyed creating their hats in cooperation with the many parents, carers and grandparents that came in to help with this big event. Their first task was to make a small model of their hat so that they could test their design. Once that was accomplished, they set about making their full-scale hat using the materials they had collected. Later in the week, they held a parade of their hates. We were very impressed with the variety of designs and the creative hats that they made!
RE week – Shabbat meal
This term's RE Week was an opportunity for all pupils to explore different beliefs and think about some of life's big questions.
In Year 4, the pupils enjoyed a visit from the rabbi's wife as she explained how her beliefs affect her daily life. Once again, a big thank you to parents and carers for the amazing Jewish food they provided for the Shabbat style meal at the end of the week; this was really enjoyed by all.
Here is Danielle's recount of the Shabbat meal:
Every Friday Jewish people celebrate something called a Shabbat meal. First, all the family rushes home from work or school and the lady/mum will light the candles on the. Second, the father will bless all the children. Next, they will wash their hands under a special cup. After that, the challah bread is revealed from under a cloth. Finally, the family sit down to eat. They are not allowed to use any technology because it is family time. On Friday 2nd November, Year 4 had their own Shabbat meal. We all brought in our own Shabbat meal food and we got to try some new foods and sit with our friends and talk. But, like a real Shabbat meal, we did not do any work or anything like that.
In Year 4, children's work in RE was connected to their literacy work. They composed poems using blank verse and repetition. Here is Kacy's poem:
I wonder why stars shine so bright,
Why do they live in the sky?
Why do they twinkle and not explode,
I wonder why the sky is blue,
Does it sleep? If so, how?
Why are clouds fluffy
Are they white or yellow?
I wonder if God has powers,
Does he have a magic spark?
Does he pull a trigger from light to dark?
Can he see everyone?
Every boy and girl?
I wonder where the Wind comes from/
I wonder where it goes,
Nobody knows,
Where the wind comes from nobody knows.
Here are some highlights from Year 4 in 2017-18
Year 4 Trip Day
At the end of term Mr Robinson and Mr Llewelyn took Year 4 for a day out to Stockwood Park. The children visited the Discovery Centre but the children seemed to most enjoy the freedom to play various games in the park with their friends.
Year 4 Concert
In December Year 4 put on a performance of their singing and ukulele playing. At the end of summer term in July they showed us just how far they had progressed by giving another performance. This time, the children were confident enough to perform in small groups as well as their classes and year group. We even had a soloist. Their voices were sounding much richer and their ukulele playing showed that they could now play more chords and manage some harder finger work
Year 4 Cake Sale (DT project) in aid of Blue Cross
4 Orion Class Assembly
The children from 4 Orion shared some of their learning from their visit to the Anglo Saxon Village. They read out some of their imaginary accounts of Anglo-Saxon life and showed a model house that they had constructed. They then moved on to food: telling us the importance of different types of food in our diet and explaining what effects the different types have on our bodies. We had an example of how to use the bar model to solve a problem in maths and to finish the assembly, Ryan led a group of musicians in a rendition of The Lion Sleeps Tonight.
4 Aquila Class Assembly - jokes, maths, bus sketches, music and more...
Year 4 Trip to West Stow Anglo Saxon Village
Year 4's amazing production of Olivia!
Year 4 Ukulele Concert