Sports and Activities
Athletes of the Half Term - Summer 2
Athletes of the Half Term - Summer 1
Athletes of the Half Term - Spring
In our video sports awards assembly of 23rd March, we celebrated the children who had excelled in their attitude to sport either in PE lessons in school or in the remote sports challenges during lockdown. Here are the medal winners:
Year 6

Sulaiman - for displaying a great attitude to sport since returning to school.

Joel- for performing well in everything he does as well as being a great teammate.

Year 5

Jayden-James - for showing excellent teamwork and an ability to work well with others.

Jessica D - for completing all of the lockdown PE challenges and being an example to others.

Year 4

Joe - for being excellent in PE lessons and always showing a great attitude.

Amarachi - for always displaying a positive attitude and trying her hardest at all sports.

Year 3

Evie-Rae - for performing really well at all sports and being keen to help out others.

Darby - for showing great teamwork and following instructions at all times.
Athletes of the half term - Autumn 2
Mr Prue announced the winners of the awards in our Sports Award Assembly in the last week of term. The assembly was live on Zoom to each classroom so that we could see the winners being presented with their medal by their teacher. Mr Prue also read out the top performers in the Sports Hall Athletics and the winning classes from the Santa Dash - 6 Andromeda beat 4 Orion to top place by just 4 individual laps.
Year 3:
Jack – for working effectively as part of a team when both attacking and defending.
Dhillon – for working hard in hockey and improving each week.
Year 4
Brooke B – for showing a great willingness to learn and improve every lesson.
Spencer - for always putting in maximum effort, and his fair minded attitude towards other players.
Year 5
Adam – for showing excellent technique in handball.
Ethan – for showing great athleticism and determination in the Sports Hall Athletics competition
Year 6
Aarman – for being an excellent role model to other students in terms of his attitude, effort and ability.
Marwa – for showing clear development in her handball skills.
Sports Hall Athletics Competition
Children from all year groups participated in this town wide competition in November PE lessons, having fun while competing and improving their athletic abilities.
Athletes of the half term - Autumn 1
In October, we celebrated the first of this year's winners of the "Athletes of the Half Term" award with two winners chosen from each year group. Congratulations to our winners: Year 3: Matthew & Joseph, Year 4: Oliver & Alife B, Year 5: Kayleigh & Jordi, Year 6: Holly & Rhys.
You can see the reasons for their awards and more about recent sporting events in our Sports Assembly slides.
Sporting highlights from 2019-20
Socially Distanced Sports Day - 13 July
Our children on site competed in our socially distanced sports day, keeping in their small group 'bubbles' as they took part. There were eight different events that where the children scored points for their houses, including a demanding cross country and a new foot golf event. The day finished with interhouse relay races with Jupiter house emerging as sports day champions.

Our thanks go to Mr Prue, our sports leader, and Mr Freeman, our sports coach, for organising the event.
Home Sports Day - Weds 8 July
On Wednesday it was Someries Home Sports Day. Mr Prue set the children five challenges to do at home - press-ups, squats, lunges, sit-ups and star jumps - and invited children to send in their best score in each event. Each entry gained house points and Mr Prue awarded medals to the top performer in each event. You can see some photos of the participants below along with the scores for the houses. Over fifty children took part - well done to them!
Cross Country
At the town-wide relay cross country event at Stockwood Park on 2 March 2020, six teams of Someries children took part: for each of Years 5 and 6 we fielded a boys team, a girls team and a mixed team. Conditions were not the best - it was cold, wet and muddy - but our runners showed remarkable resilience to compete in this event. Each team had four runners who ran a 1200m leg each before handing over to the next runner. The Year 6 team were a runner short so Aaron bravely ran twice to allow his team to complete the relay.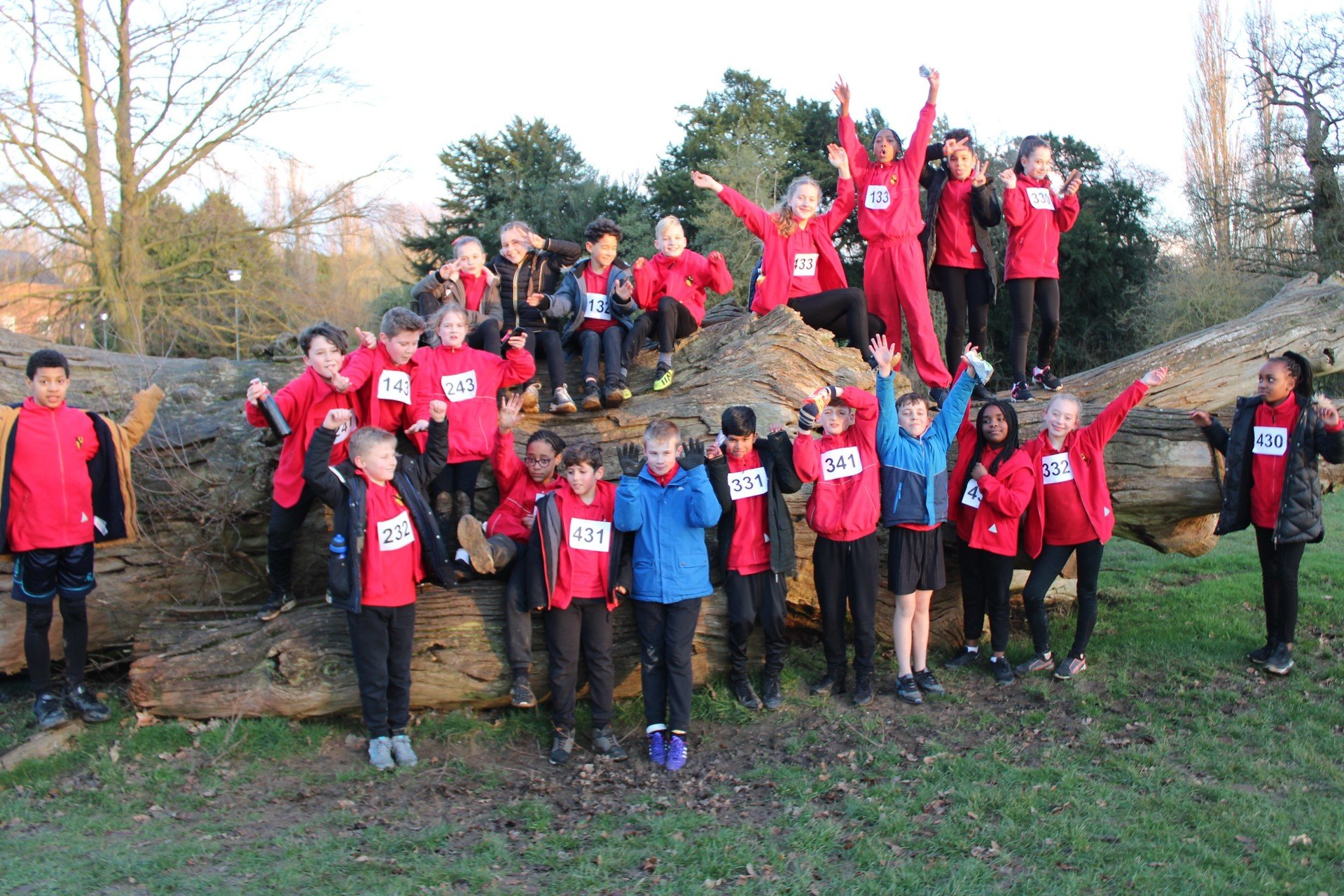 Congratulations to the two girls teams who both won silver medals!
Football season resumes
After the winter break, our boys football team had their first fixture on the last Friday of February. After the wet start to term, the pitch was wet and the boys dealt with difficult conditions against difficult opposition. The boys were defeated by the team from Sacred Heart but put in a spirited and determined performance.

Their dedication to the team could be seen in how muddy they were from tackling and sliding to reach the ball – none more so than goalkeeper Joel, whose kit was turned from yellow to brown!
Dodgeball tournament
Our Year 3 and 4 dodgeballers got their chance to represent the school in this popular sport in January. The dodgeball tournament is a demanding event as the children play a large number of games over the day, so it requires stamina as well as skill. One of the players has written a recount of the event:
On Wednesday, some Year 3 and 4 pupils represented Someries in a dodgeball tournament at Inspire. It was an early start as we had to be there for 9am. We played some competition games and we worked well together as a team and managed to win four of the six games. We then had a friendly tournament in the afternoon. By then, we were fully confident about dodgeball.
I really enjoyed dodgeball because we all worked together as a team, and once we started winning, we knew we had nothing to worry about and because of Mr G's coaching we began to feel like we were masters of the tournament.
Jordi, 4 Orion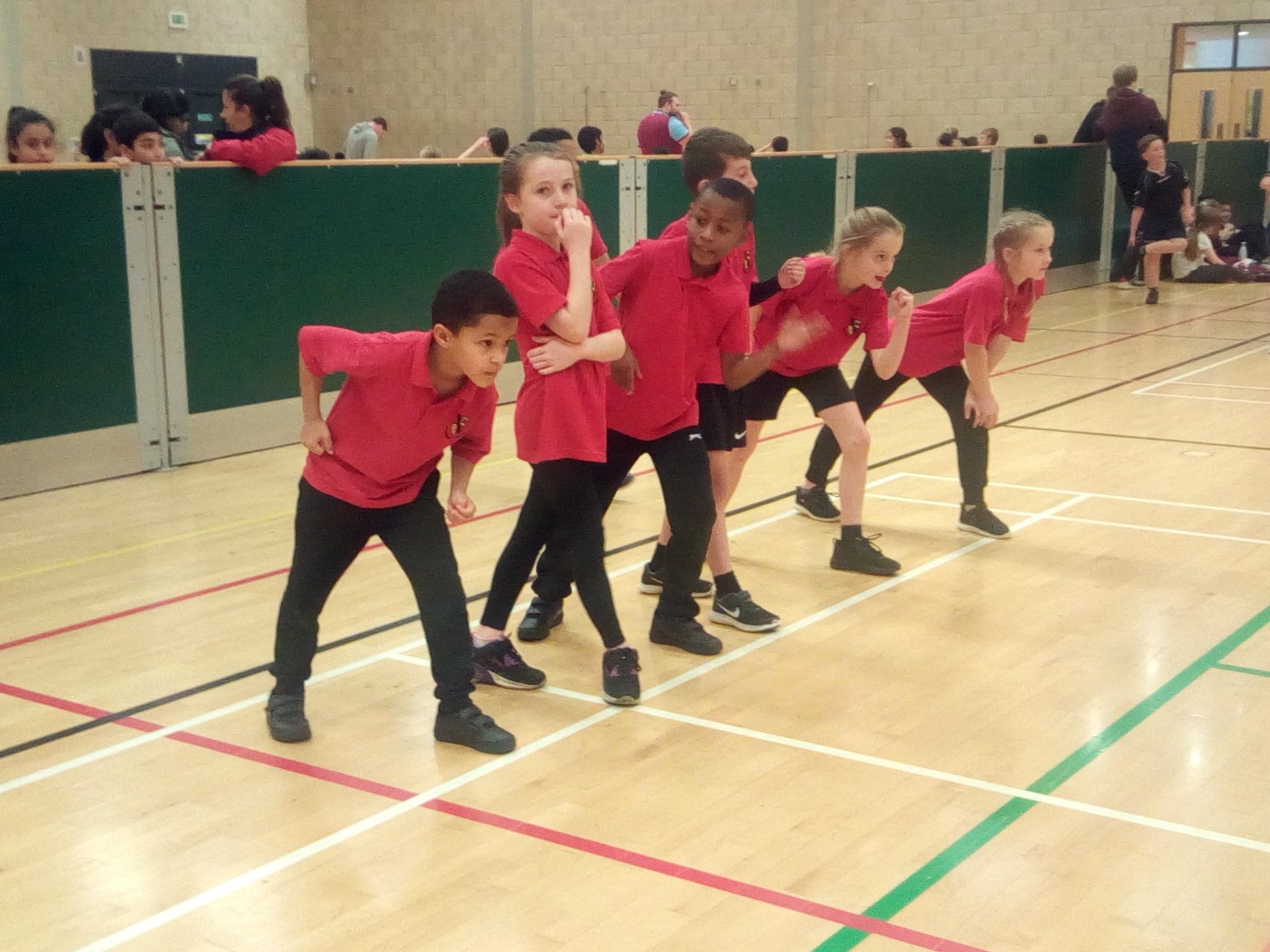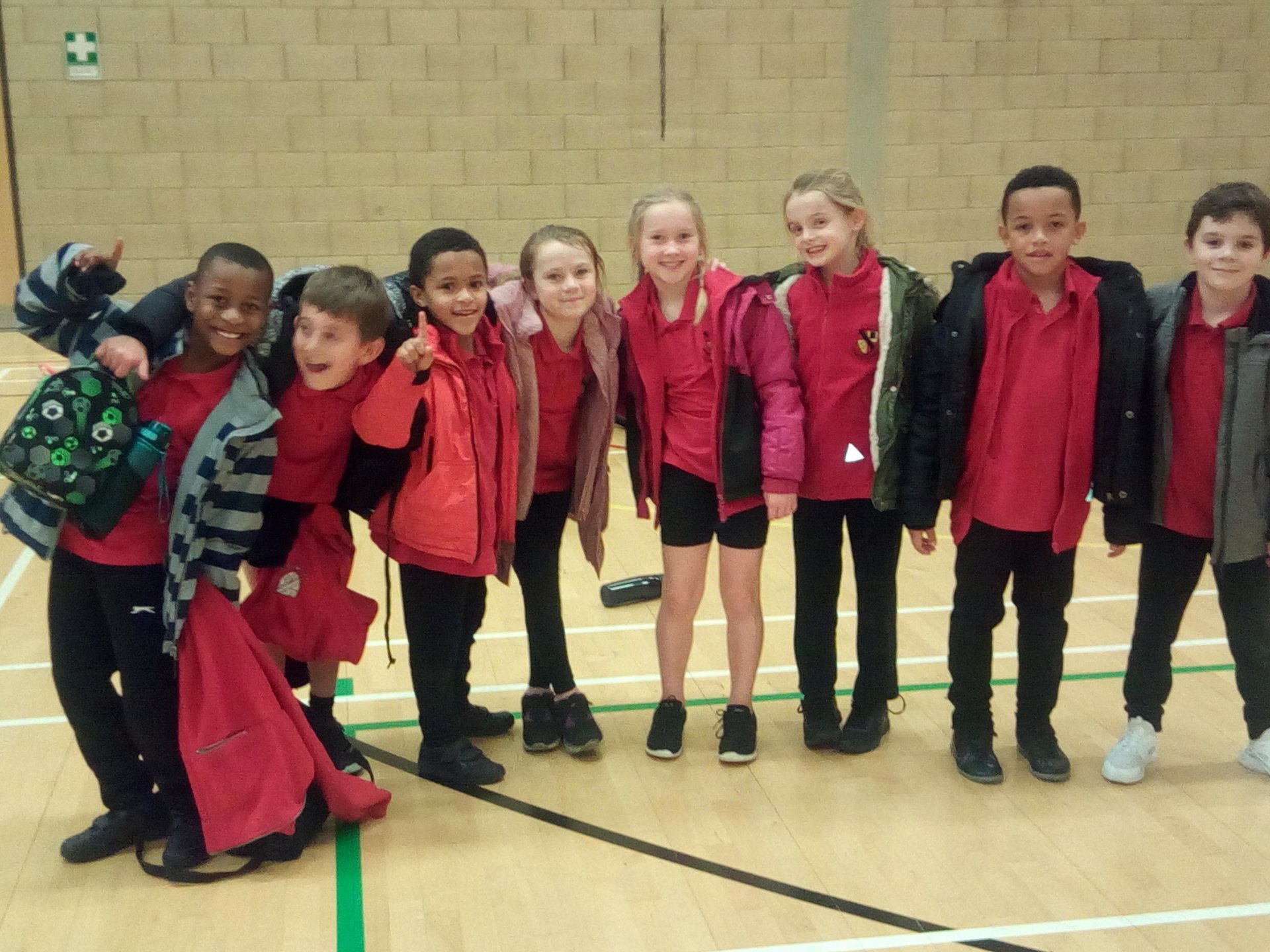 Girls' Football - the semi final
Last term, our team won the area girls football tournament at Ashcroft High School, winning all their games. This term, they competed in the next round at the same venue. They played a semi-final game against Leagrave Primary and won comfortably 5-0 with very strong performances from our players. They have now qualified for the town final.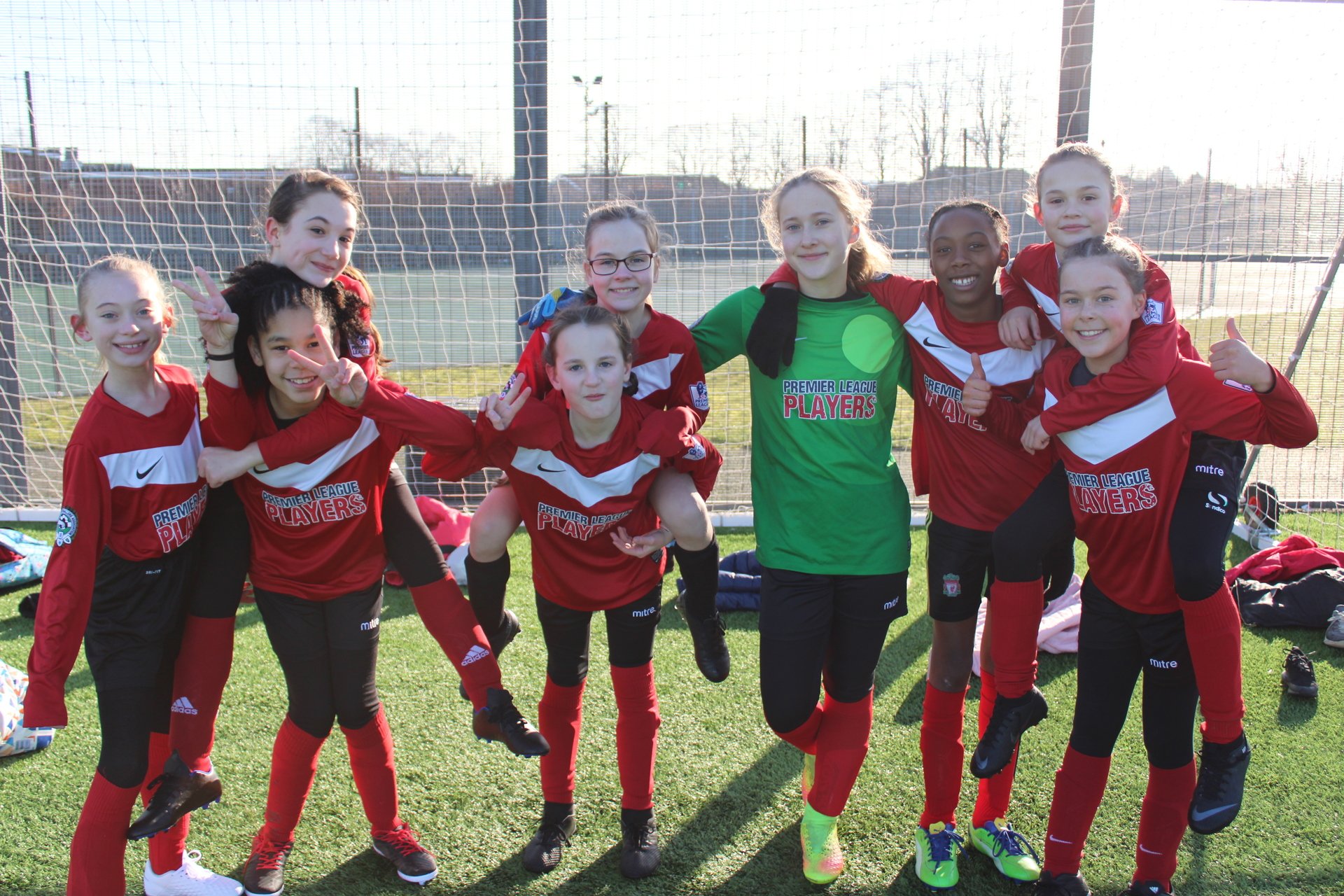 Boccia Competition
In January, some of the Year 6 children who had represented us at the town curling competition went to take part in a boccia tournament as this sport used similar skills. Boccia is a game that is a little like playing bowls sitting down. Our team enjoyed taking part in this unique event.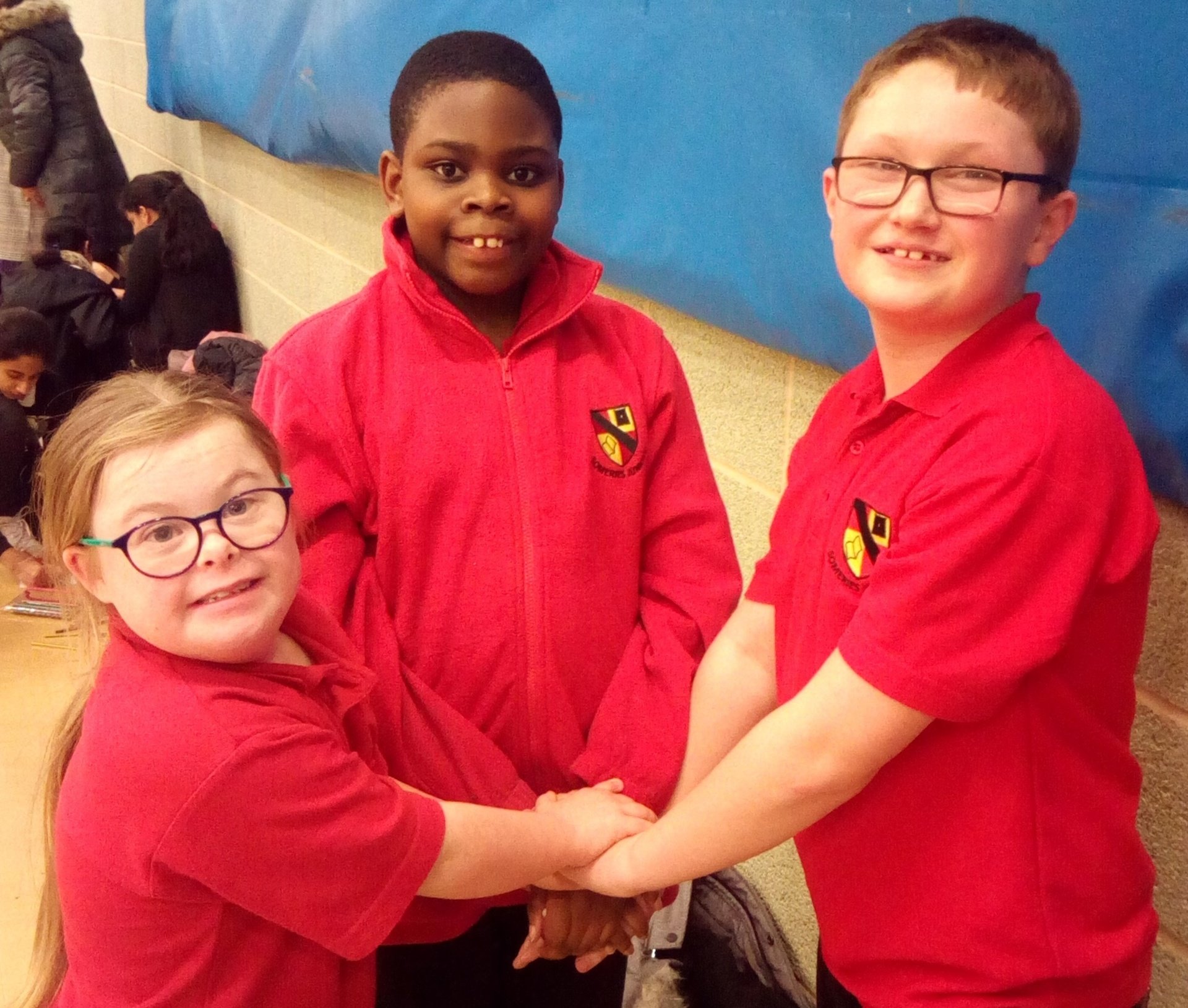 Curling Competition
In December, a team of Year 6 children represented Someries Juniors at the town curling competition held at Luton Sixth Form College. This was the first time any of our team members had played curling but we found out that some of them were natural players, quickly picking up how to knock out the opponents' stones and grab the points. The team did very well, proceeding to the quarter finals.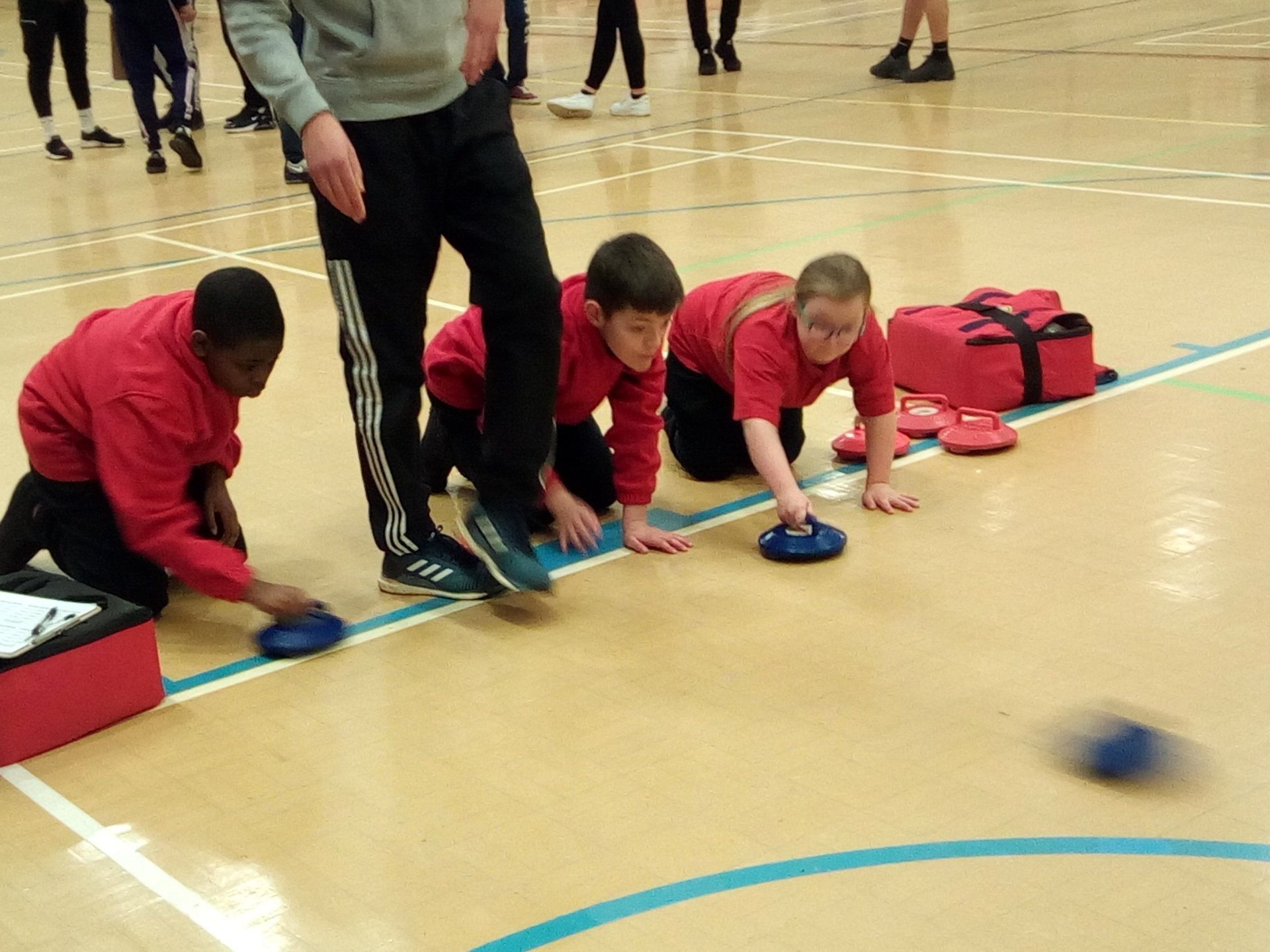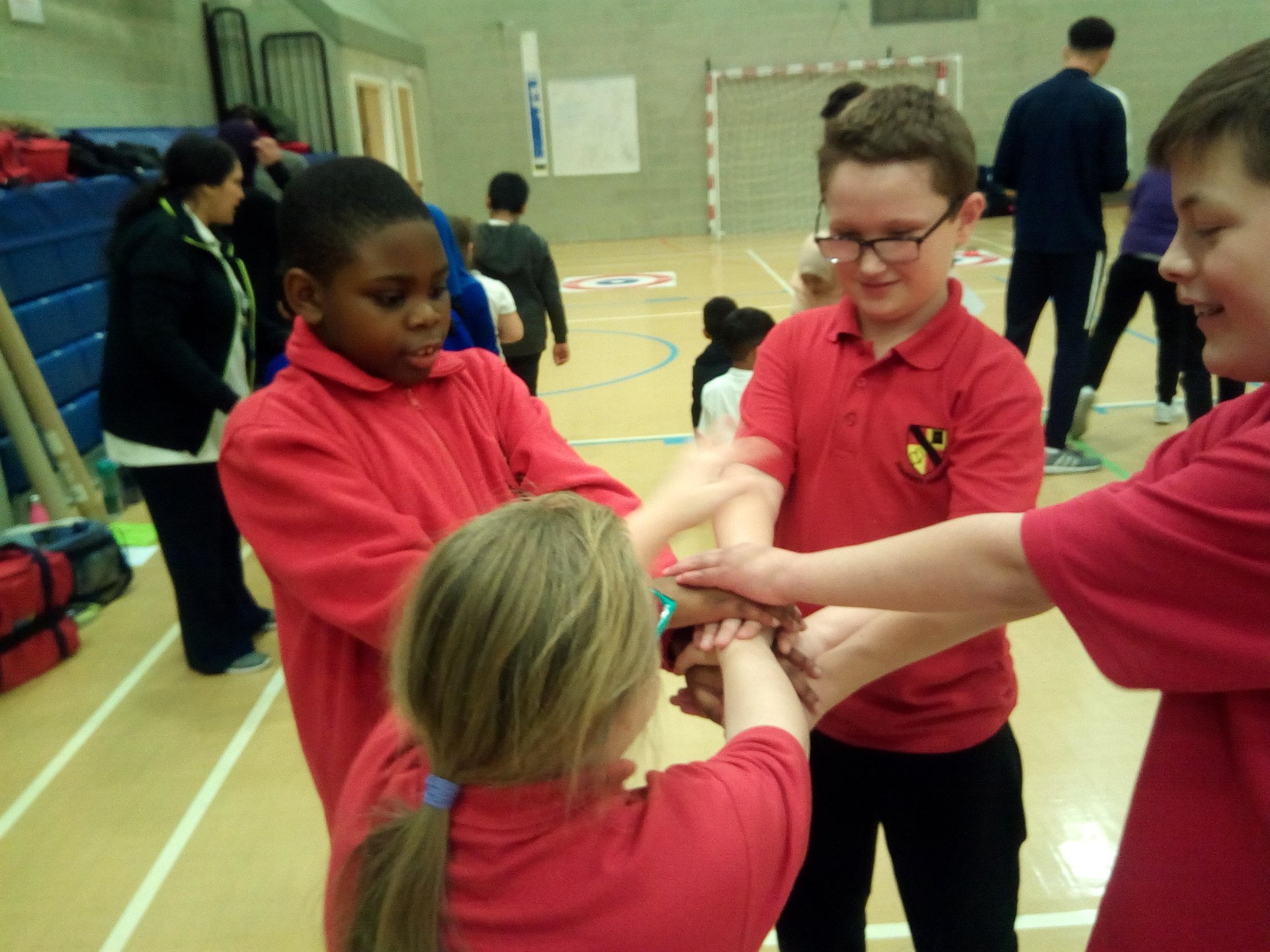 Sports highlights from the autumn term
At our special Sports Assembly, it was good to look back and see just how many events our children have participated in this term.
Futsal tournaments
Futsal is similar to five-a-side football but played with a smaller, harder, low-bounce ball. The ball and rules together favour ball control and passing in small spaces and the game helps players develop better skills. We entered teams for both the boys' and girls' competitions.
The girls, who have been training by making use of the playground Smooga pitch on 'girls' day' each week, made a good impression at their first Futsal tournament as they battled against teams from schools across town. They played with a very positive attitude and enjoyed taking part and representing the school.
The boys' team put in a series of terrific performances to progress to the final. On their way to the final, they won all their group games. Sadly, they were defeated in the final, but they came home proudly brandishing their runners-up medals!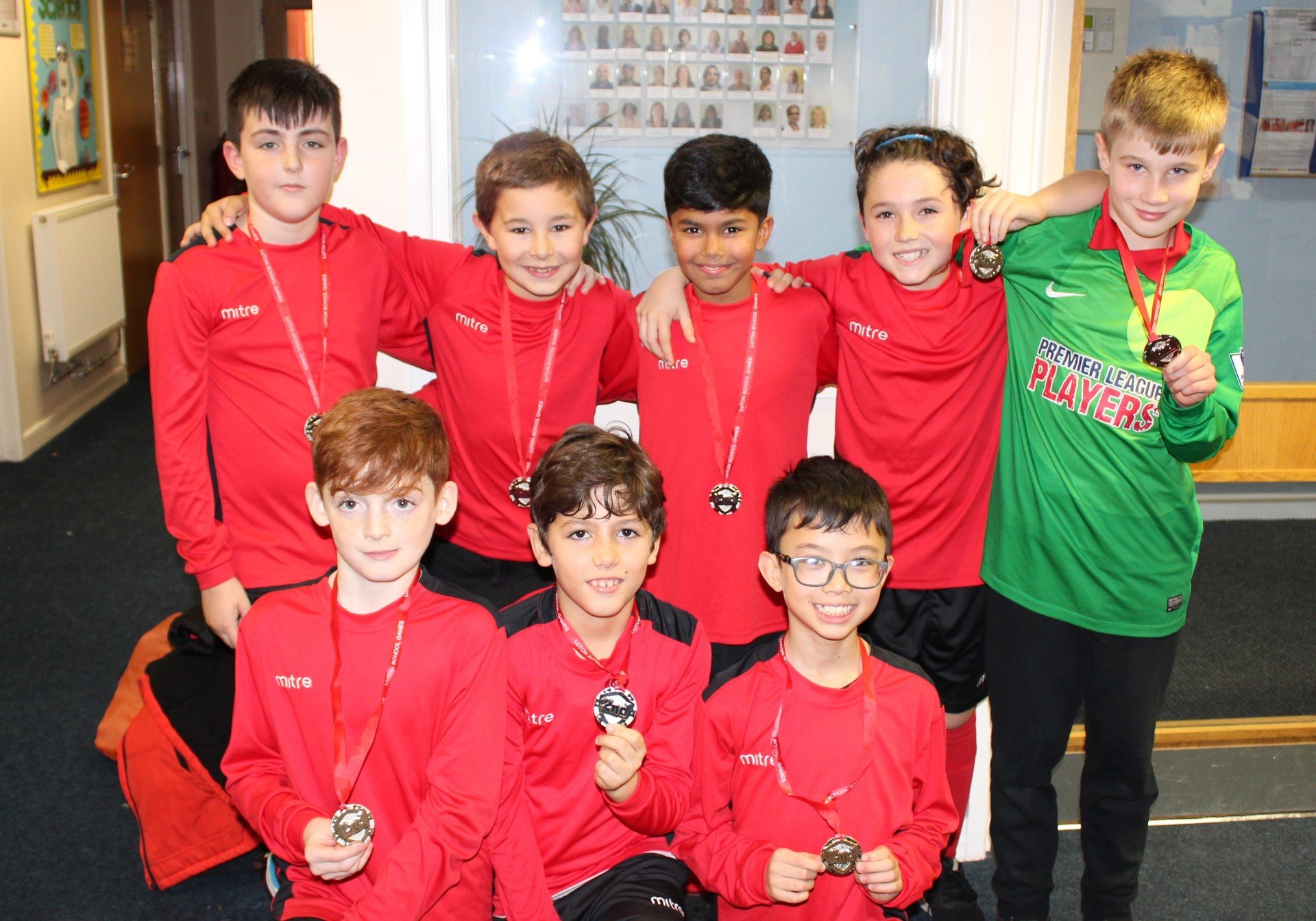 The Big Match
After a run of victories, our football team was top of the league along with Wigmore Primary. In November, the two teams met for a top-of-table clash. In a tough game and on a boggy Someries pitch, our team battled well against strong opposition. Wigmore took the lead and hung on to it until, towards the end of the second half, Jayden got an equaliser. Both sides continued to make chances but the game finished as a tie.
Indoor athletics
In the summer, we take part in outdoor athletic events. In October, a large team of Someries athletes joined an indoor athletics event where they took part in running, jumping and obstacle events.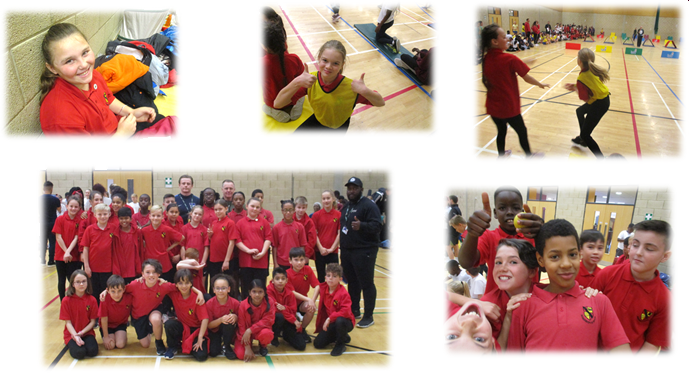 Girls' Football Champions.
Our terrific girls' football team blew away the opposition at their tournament. With skill and dedication, they won all their games and were overall winners. They even had to hold back in some games so as not to win too easily!
As before, they were well supported by a vocal group of mums and nans!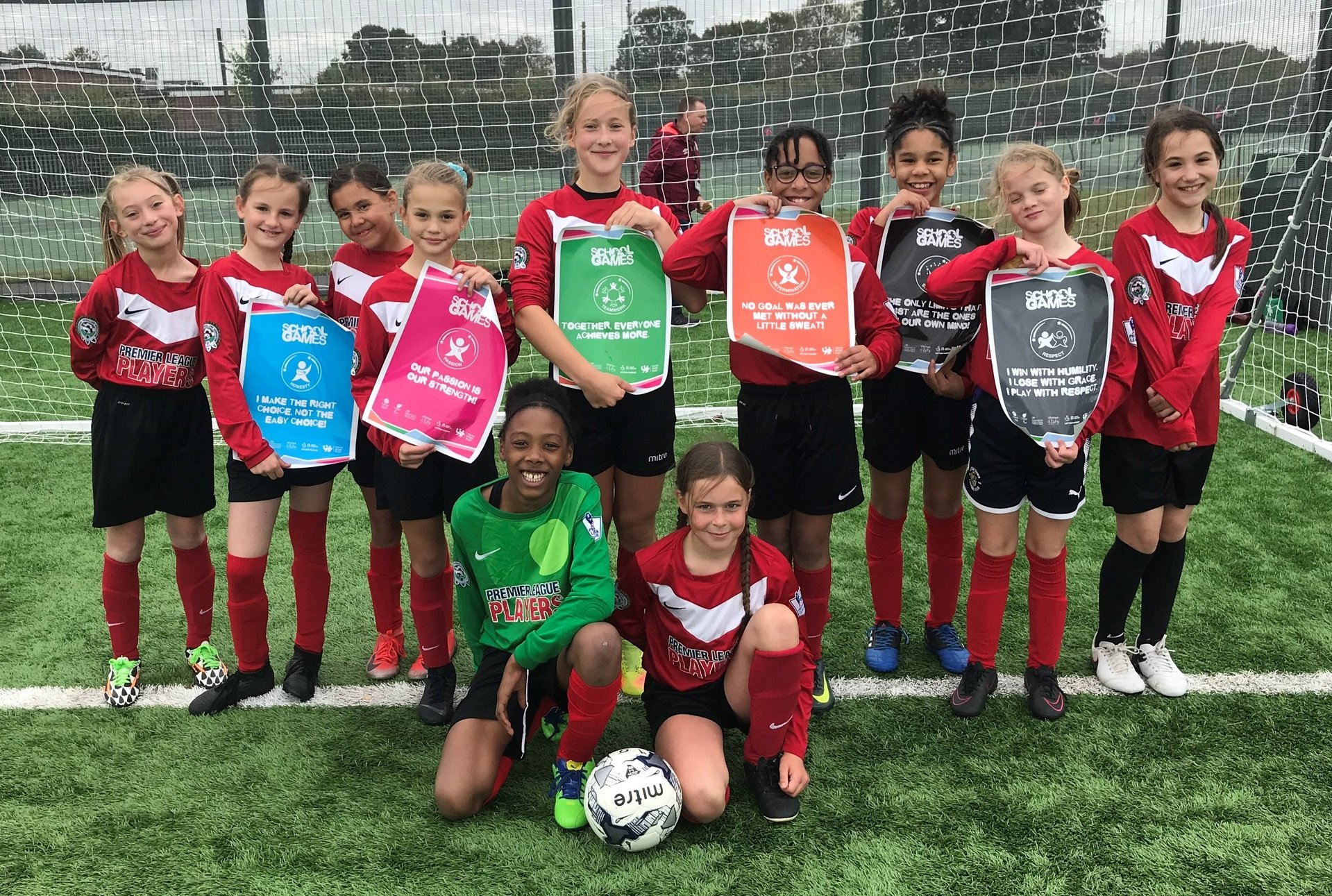 Football Fixtures
Our team performed well in games against Beech Hill, Pirton Road, Putteridge and Hillborough schools.
Football 14 Oct v Pirton Hill 2019
On Tuesday 14th October 2019, we played against Pirton Hill. First, we went to the huts. There we put our boots on and made our way to the bus. I clumsily forgot my boots and so Ike and I had to go back and get them. It took around 30 minutes to get there, due to it being in Leagrave. As soon as we got there, we did our warm-up and went to play. We got into our positions. The referee blew his whistle; the game had begun.
Aarman made a great tackle and passed to me. I then made a splendid pass to Jayden. He dribbled past one, two, three players and hammered the ball past the goalkeeper. Later, it was a corner for Someries. Danny said to Jayden, "I'll take this one." He made his run up, crossed it in - there was a lot of confusion had it gone in, had it not? Then the referee blew his whistle and said, "2-0 Someries." Danny had just scored from a corner! At least five minutes later, Pirton played some lovely football and scored a quite incredible team goal. 2-1. Someries had to keep the lead. Luckily, we did. As a matter of fact, we actually scored a great goal: Jayson cleared it to Aarman, then he passed to me, I passed to Jayden who ran past the keeper and scored. 3-1. The referee blew his whistle. Half Time.
When we came back onto the pitch the line-up was, Joel in goal, Rayan, Finlay and Mikey in defence, Danny and Lily in midfield and just the one striker, Jayden. We carried on the same and managed to score another. Rayan made a great tackle and passed to Finlay, who then passed to me; I passed to Jayden; he dribbled past one, two and scored past the keeper. Through the match everyone was consistent and we managed to win 4-1. All the players enjoyed the victory and hope to play again. That was what happened in the 4-1 win against Pirton Hill. Danny 6A
Someries V Beech Hill
In the first half Jayden scored a hat trick which made us have a good start. In the second half they scored two goals but Aarman scored a goal assisted by Ronnie. Then straight after that we scored another with Danny. With a few minutes left, Aarman scored another to make it 7-2. We were not focused, so they made it 7-3.
Street Dance
The members of our popular after school street dance club performed for their families. They danced a routine that they had worked on over the previous weeks – involving some individual free-styling and some well-coordinated group moves.
Tag Rugby
For the tag rugby tournament, it was the turn of Year 3 and 4 athletes to represent Someries Juniors. They spent the day at Stockwood Park and played a number of matches, performing admirably.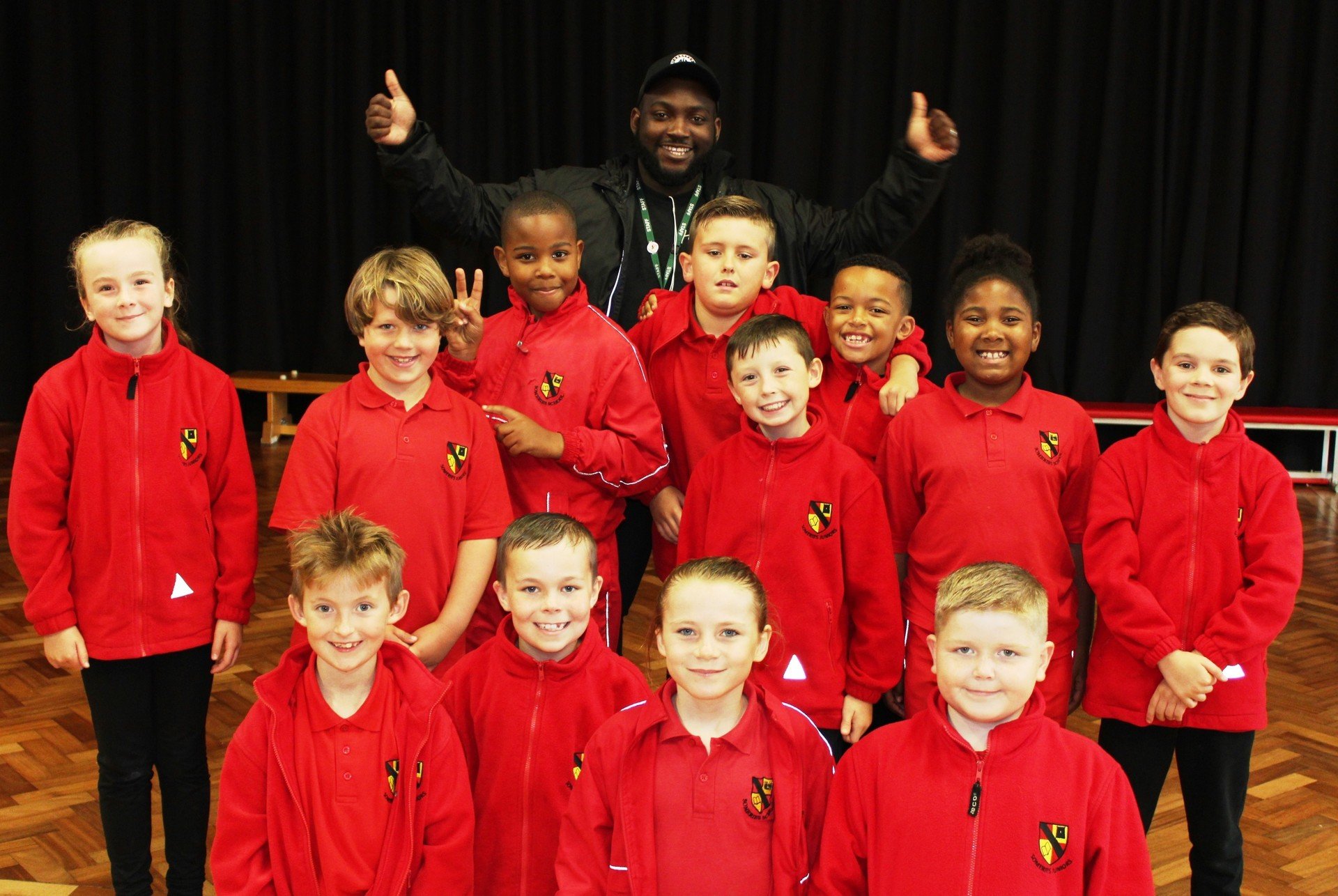 Dodgeball tournament
There was a town-wide dodgeball tournament at Inspire sports centre for Year 5 and 6 children. Our Year 6 pupils were unable to take part, so it was up to Year 5 to represent us at the event – against much bigger opposition. It was tough, but they enjoyed it!
Year 5 Dodgeball Tournament
When we first arrived at Inspire, we had a drink and sat down on the side of the pitches. We were hit a little and the balls were hard. In each of our games, one girl and one boy sat out. There were three rounds in each game. After playing one game, we had our snacks. After two more games we had our lunch and then played seven more games. We also played some games in our own team with four on each team. Then the fire alarm rang. We all went outside and waited for the alarms to stop. We went on a coach and got back in 15 minutes. Shobika 5H
Dodging the hard balls
On Wednesday the 13th of October, some of Year 5 were chosen to represent the school at Inspire. In the morning we got our stuff and got on the minibus. When we arrived at Inspire we went inside and saw that a lot of people were there. We had to sit in front of a match.
We finally got to do our first match; it was against Stopsley. They threw the balls very hard at us. Sadly, they won 3 out of 3 rounds. Each round had 5 minutes. We had lots of injuries in the head. Suddenly we had a fire alarm and everyone went outside. Finally, it was the end of the trip. We all enjoyed it. Evelina 5H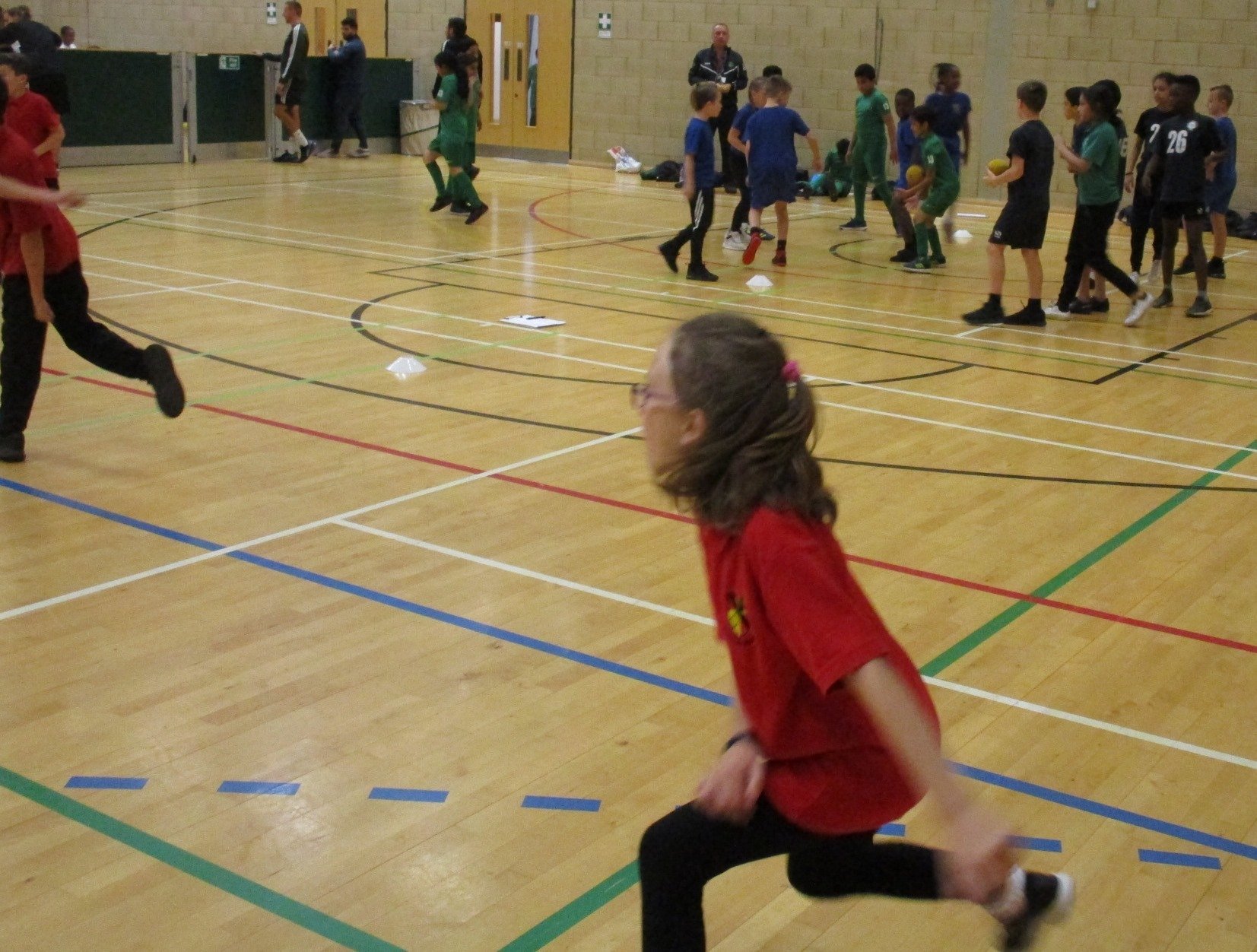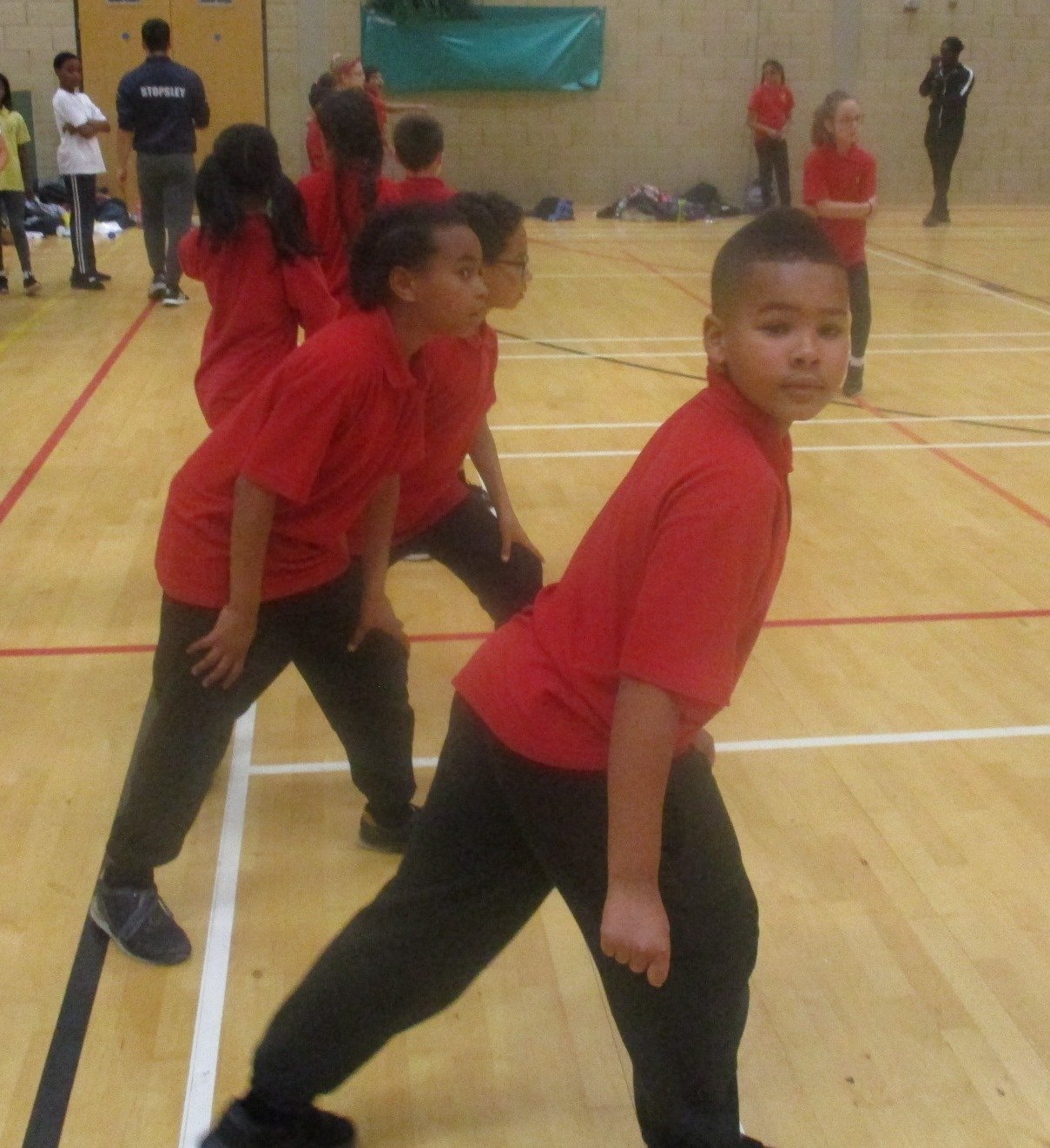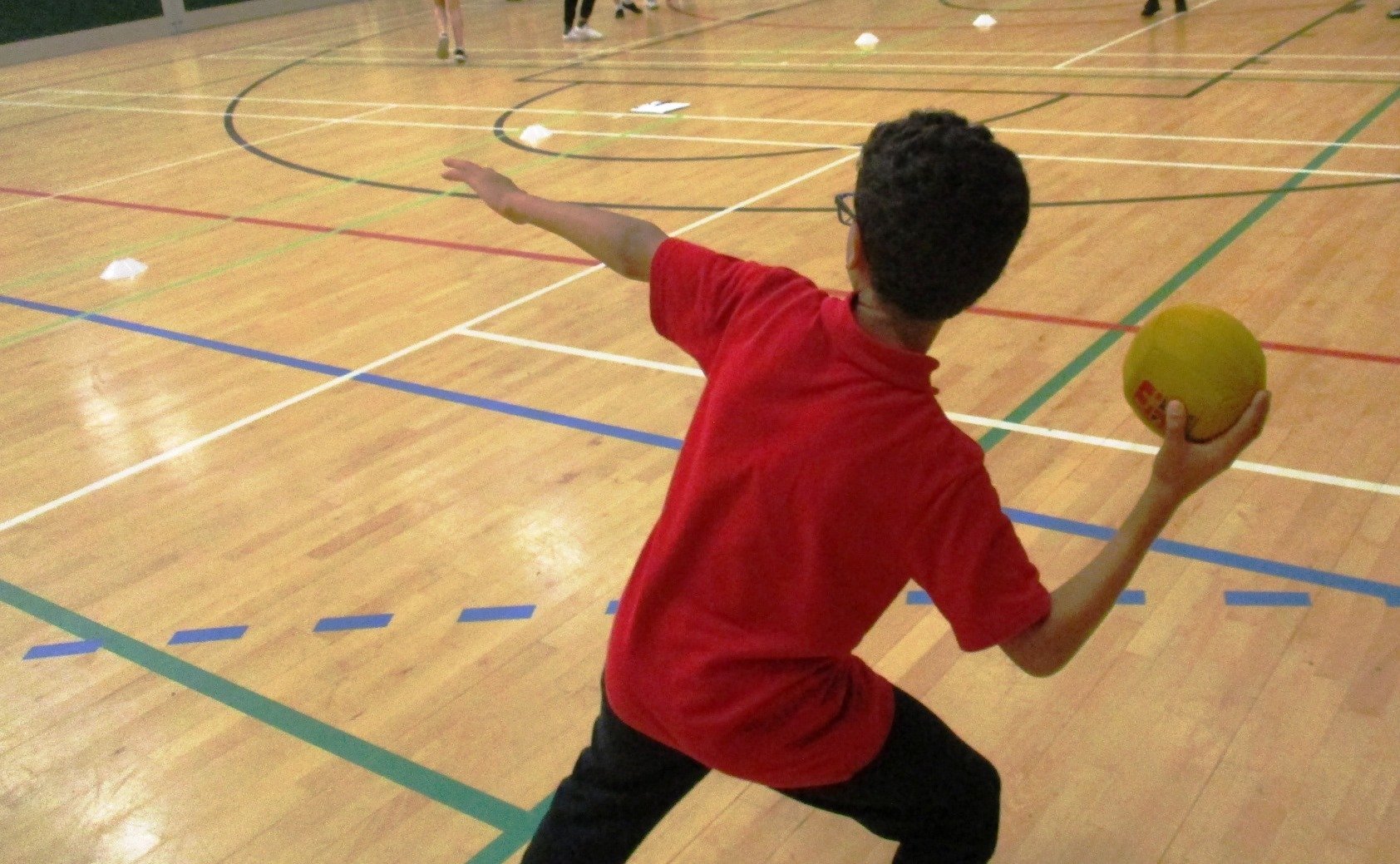 An amazing dodgeball day!
On Wednesday, the Year 5 team went to the dodgeball tournament. When we got to Inspire, we went into the hall - there were loads of schools there. We sat down and watched some games then it was our go to play some games. We lost some games but sometimes people were left alone against loads of people. The balls were soft on the outside and hard on the inside some people got hit in the face. They were throwing the balls really hard. We played a lot of games. It was an amazing day I loved it. Neve 5H